Park Trails
Natural Bridge Trail
Trail Rating: Moderate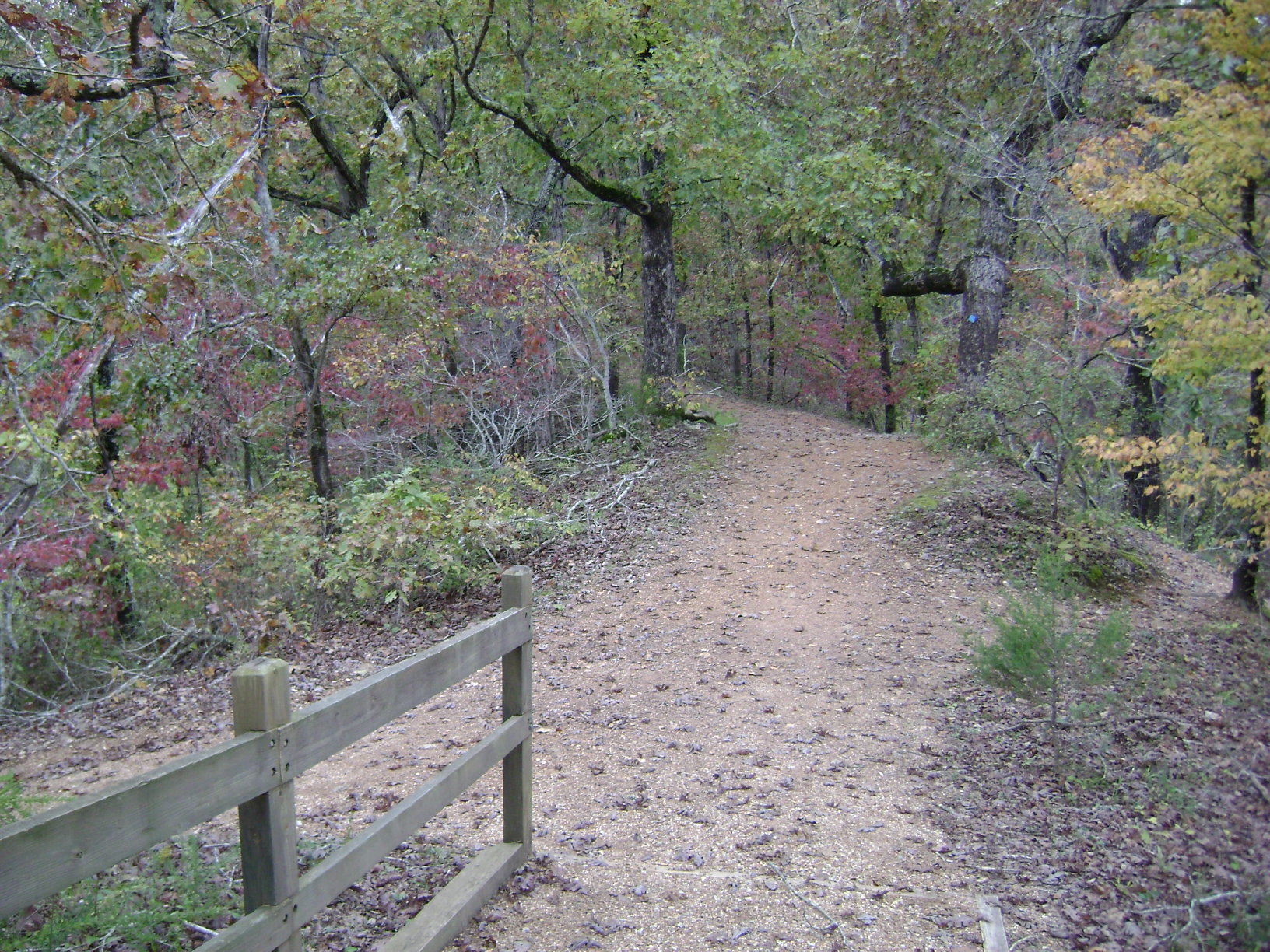 A remnant of an ancient collapsed cave system has formed one of the largest natural bridges in Missouri. Natural Bridge Trail takes hikers over the natural bridge and offers a glimpse into the spectacular Grand Gulf as it travels along the edge. Hikers can see wildflowers and wildlife as they go along the trail.
While offering views of the gulf in the summer, the best time to walk this trail is in the late fall and winter seasons. Visitors are treated to greater views without leaves on the trees. Deer and turkeys can be spotted off in the distance. Fall is a great time to hike the trail as well to view the changing colors.
Users will encounter a gravel trail with steep slopes and should wear a good hiking shoe or boot for comfort.
Volunteers are always welcome to help maintain the trail. Contact park staff.
You may experience:
Natural surface, dirt, mud, gravel, shifting rocks, slippery surface, etc.
Rocks, roots and/or downed vegetation on trail        
Steep grades and inclines more than 10 percent
Bluffs or drop-offs next to trail
| Length | Estimated Hiking Time | Type | Blazes | Trailhead |
| --- | --- | --- | --- | --- |
| .80 Mile | 40 minutes | Loop | Blue | Day-use parking area |
Interpretive Loop Trail
Trail Rating: Moderate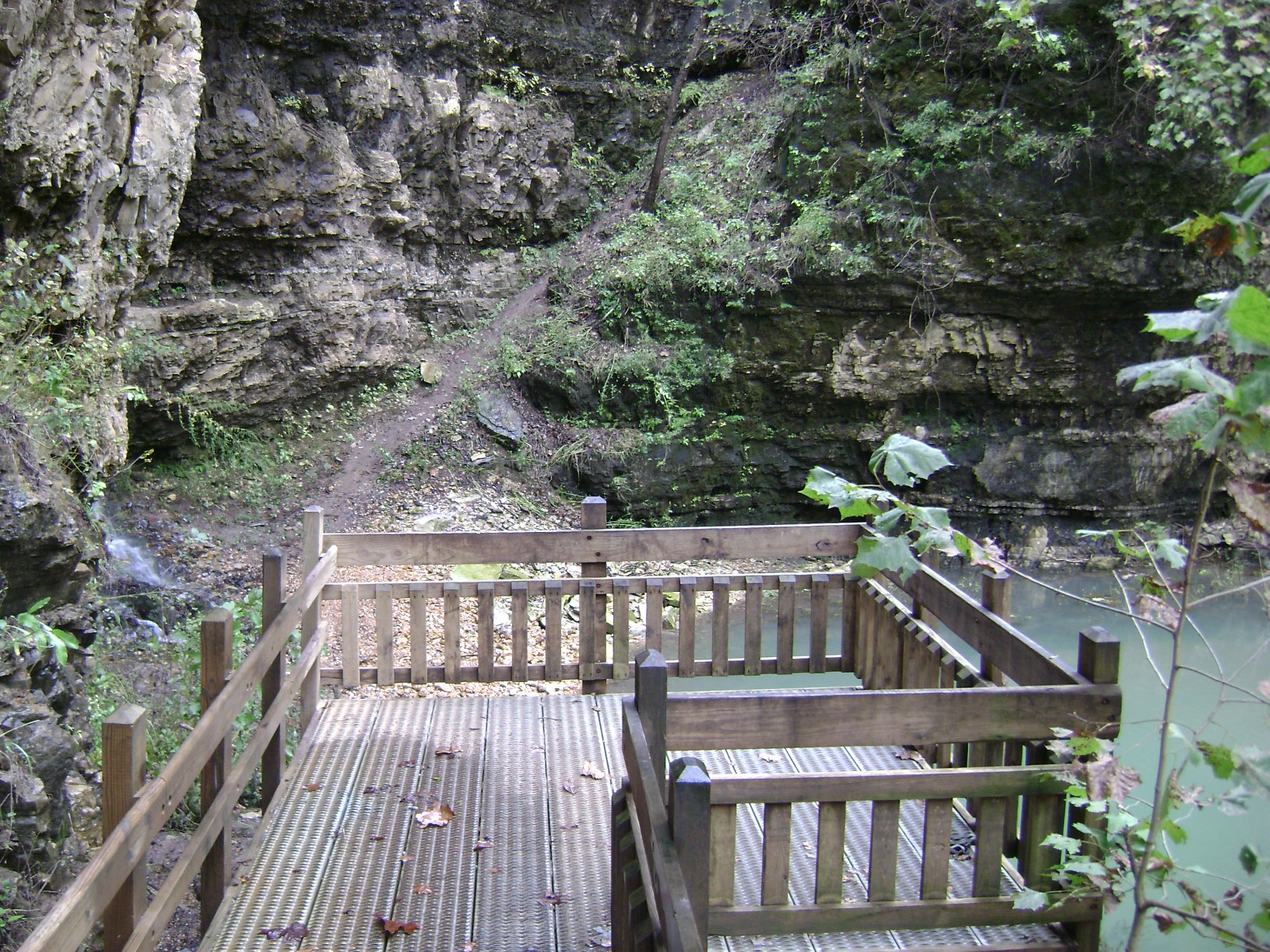 Interpretive Loop Trail offers some of the most spectacular views of the gulf.  Built in 1986, four overlooks allow visitors to view the sights of Grand Gulf.  Visitors can see the remains of the collapsed cave system as well as the remaining cave located in the Grand Gulf sink. Unusual rock formations and geological features are visible while hiking along the edge of the gulf. Interpretive panels located at the kiosk and along the trail explain the formation of the gulf as well as pointing out different features of the gulf.
The trail's 119 steps allow visitors to view the bottom of the gulf and the wet-weather waterfall. A platform allows the visitor a place to stop and take in the beautiful view of the gulf. While hiking down the steps. look at the bluff next to the steps and view the different layers of chert and dolomite. Numerous stopping areas are available for enjoying the view as well as resting while coming back out
The surface of the trail is crushed rock with steps and steep slopes. Visitors should wear a good pair of shoes or hiking boots. Volunteers are always welcome to help maintain the trail. Contact park staff.
You may experience:
Natural surface, dirt, mud, gravel, shifting rocks, slippery surface, etc.
Rocks, roots and/or downed vegetation on trail        
Wood or stone steps
Steep grades and inclines more than 10 percent
Bluffs or drop-offs next to trail
Bridges and/or structural crossings
Occasional water over trail
| Length | Estimated Hiking Time | Type | Blazes | Trailhead |
| --- | --- | --- | --- | --- |
| .25 Mile | 15 minutes | Loop | Red | Day-use parking area |