Park Trails
Kelley Branch Mountain Bike Trail
Bicycling/Mountain Biking

Hiking
Trail Rating: Moderate
Kelley Branch Mountain Bike Trails is set inside the 90-acre Kelley Branch Restoration Area. The trail traverses up and down the wooded hills along the Kelley Branch stream. The stream area has been set aside for restoration work and is closed off from off-road vehicle riding. The trail loops mountain bike riders and hikers from the picnic area trailhead north, then to the southern most point of the park crossing Kelley Branch Creek. The trail takes riders through wooded landscapes that feature steep mounds measuring 20 to 30 feet high. Then, the trail descends to the flat bottomland for a short ride, then back up the hillside, where there is a picturesque waterfall. The trail then goes down to the old remains of a mining bridge. This area was reclaimed from Peabody Coal, which strip-mined coal from the area during the 1960s. Deer and beaver are common in the area.
The trail features a concrete oval pump track with eight bumps or "pumps" that requires bicyclists to use an up and down pumping motion to propel the bicycle forward without pedaling. The pump track can be used by all ages and skill levels and is open to any size bicycles, skateboards, non-motorized scooters, rollerblades or roller skates. The trail also features a 12-piece skills course so bicyclists can practice their mountain biking skills.
You may experience:
Natural surface, dirt, mud, gravel, shifting rocks, slippery surface, etc.
Rocks, roots and/or downed vegetation on trail
Physically challenging obstacles
Steep grades and inclines more than 10 percent
Bluffs or drop-offs next to trail
Bridges and/or structural crossings
Water/stream crossings without bridges
Occasional water over trail
| Length | Estimated Hiking Time | Type | Blazes | Trailhead |
| --- | --- | --- | --- | --- |
| 2.75 miles | 2 hours | Loop | Yellow | At the day-use/picnic area parking lot |
ORV Trail System's Main Trail
ATV

Bicycling/Mountain Biking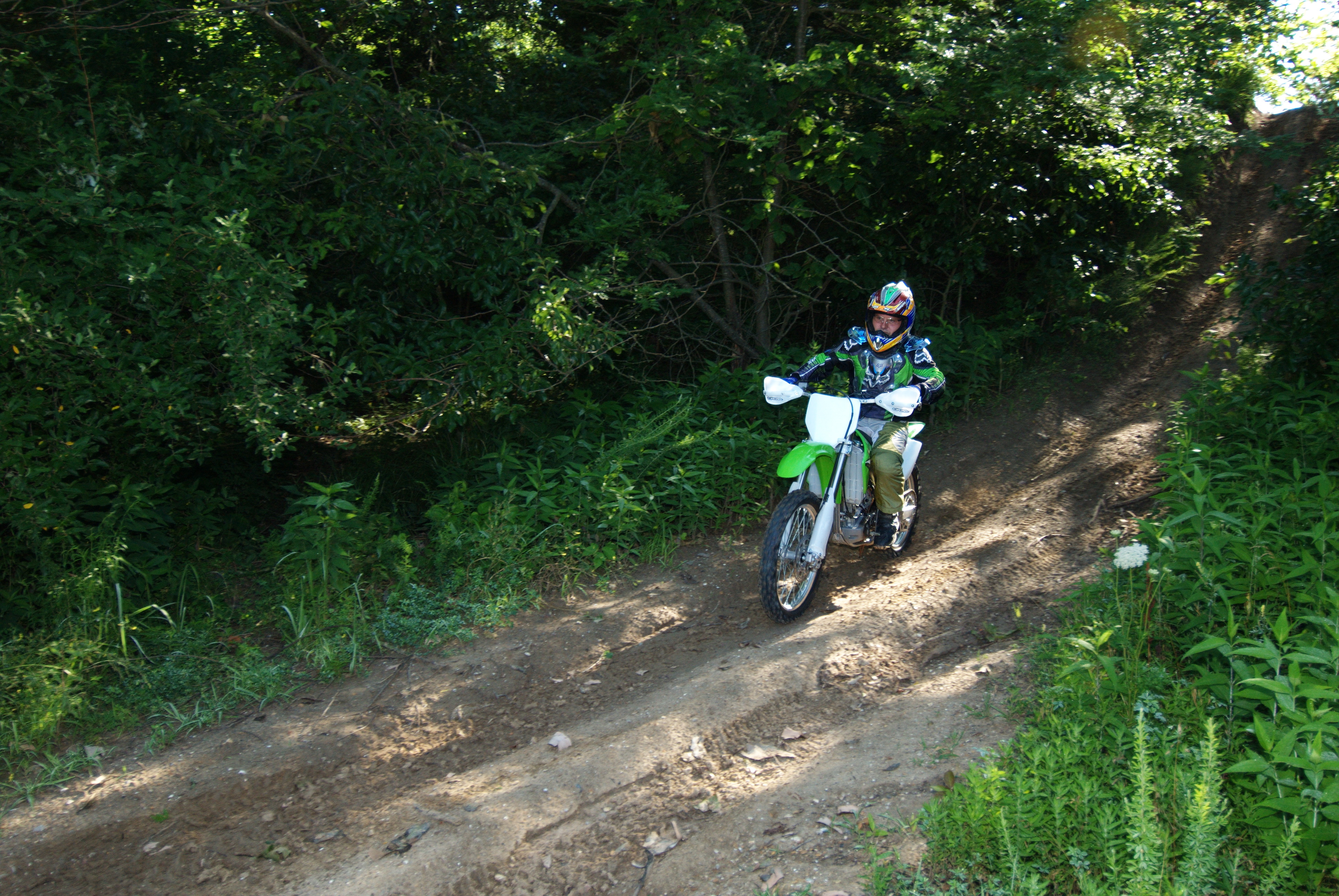 In the open riding area of the park, a designated dirt trail is identified that leads motorcycles and all-terrain vehicles from the campground to the motocross track, the staging area and south to the park office. The trail takes riders through wooded landscape that has been reclaimed from Peabody Coal, which strip-mined coal from the area during the 1960s. Rider will pass by a number of lakes and steep mounds measuring 20 to 30 feet both deep and high.
This trail is marked with information signs leading riders to destination points in the park and is designed for all skill level riders. There are steep grades and mud along the trail as well as slippery surfaces and some downed vegetation.
This 5.25 miles of trail is the only designated and maintained trail in the off-road riding area. However, riders may have developed other paths and routes in the area. All riders are advised to use precaution at all times. Efforts have been made to make Finger Lakes State Park a safe riding area, however natural forces may create unknown hazards.  Riders ride at their own risk.
You may experience:
Natural surface, dirt, mud, gravel, shifting rocks, slippery surface, etc.
Rocks, roots and/or downed vegetation on trail
Physically challenging obstacles
Steep grades and inclines more than 10 percent
Bluffs or drop-offs next to trail
Water/stream crossings without bridges
Occasional water over trail
Road/highway crossing
| Length | Estimated Hiking Time | Type | Blazes | Trailhead |
| --- | --- | --- | --- | --- |
| 5.25 Miles | n/a | Linear | Green | (1. At the south end of the staging area; (2. At the south end of the overflow parking in the campground; (3. On the east side of the motocross area |