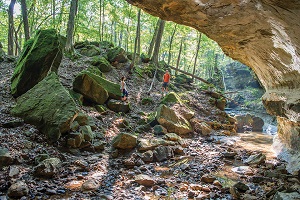 Don Robinson was a self-made St. Louis-area businessman who became successful by producing and marketing a cleaning product called "Off." With his profits, he began buying rugged and wooded countryside in the Jefferson County area because in his words, it was "wild and wooly with lots of canyons."
As he continued to buy land, he created his own sanctuary surrounded by mostly forested steep, rugged hills. His goal was to add land to reach the same size as Central Park in New York City. Upon his death, Robinson donated his land as well as a trust fund to help manage the park to Missouri State Parks.
His land, now Don Robinson State Park, is much more than a great retreat— it is considered among Missouri's best places to conserve native wildlife and habitat. The land is in the upper watershed of the LaBarque Creek, a high-quality stream that supports 42 species of fish before entering the Meramec River. Its location is key to the LaBarque Creek Watershed Conservation Area and offers opportunities to participate in partnerships to maintain these features within a healthy regional watershed. The park includes an extensive network of sandstone cliffs and box canyons, outcrops and shelter caves as well as glades and upland and bottomland forests. Native shortleaf pine occurs in the area and may represent the northernmost location of this species in Missouri.
The park is rich in native flora with approximately 650 species of plants, including vascular plants, moss and ferns. Several state-listed plant and animal species of conservation concern, including partridge berry and four-toed salamanders, can be found in the park. The area's natural features attract numerous migratory songbirds including blue-gray gnatcatcher, summer tanager, Acadian flycatcher, wood thrush, Northern parula and red-eyed vireos. 
Today, visitors can explore this amazing park through a network of trails, then relax with friends and family in the shady picnic area.