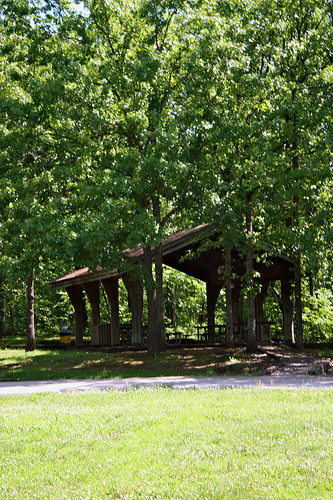 Enjoy lunch at one of the picnic sites or shelters. Playground equipment is available.
If you are interested in reserving one of the park's three open shelters, please call 660-563-2463 or visit the park office on Monday through Friday between 8 a.m. and
4:30 p.m. The office is closed from noon to 1 p.m. for lunch. To reserve a shelter, contact the park to check for availability by calling 660-563-2463. If available, fill out the Shelter Reservation Application and mail it to the park for approval. Submission of this application does not guarantee reservation of the shelter. Upon approval of the application, a $45 fee is required to reserve the shelter. Alcohol use is allowed with permission and requires a $250 deposit due in advance.
The shelters are available for use from sunrise to sunset  365 days per year. None of the shelters have electricity, but restroom facilities are available at each shelter. If not reserved, the shelters are available on a first-come, first served basis.
Click on the links below to view a photo of each shelter: