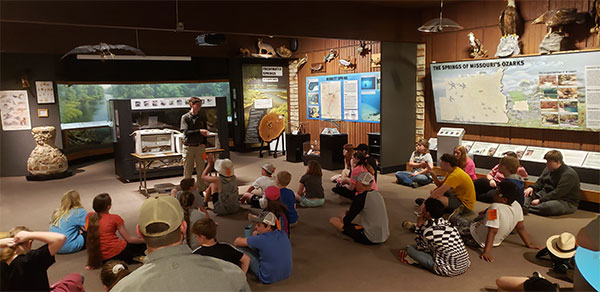 A variety of interpretive programs are offered at the park. These include nature programs, guided nature walks and year-round school programs. Inquire at the park's nature center or check the bulletin boards in the park to find out what programs are being offered during your visit. Click here for a list of upcoming events at the park.
Explorer Backpacks
On Fridays, Saturdays or Sundays from March 1 through Oct. 31, you can stop by the nature center before your next adventure to check out our Explorer Backpack. It is filled with tools for investigating the nature around us, identification books and a journal to share your discoveries with others. This backpack is essential for any hiker who wants to learn more about nature. To check out the backpack, just ask a nature center staff member, then take off to enjoy your experience here at Bennett Spring State Park! 
Civilian Conservation Corps Self-Guided Tour
The Bennett Spring State Park 1772 Civilian Conservation Corps created many structures at Bennett Spring State Park. Stop by the nature center and get a self-guided tour brochure Wednesday through Sunday, 10 a.m. to 4 p.m. The brochure will have a map and list of structures that were built between 1933 and 1937 in the park. The structures are within 2 miles' walking distance. The 1772 CCC consisted of more than 200 men who had served in the First World War. There is an exhibit display that has pictures and additional information about the men who razed many of the buildings that formed the core of the town of Brice, which is now Bennett Spring State Park. This map was created by a previous seasonal interpreter, Becky Day, who is a local resident.