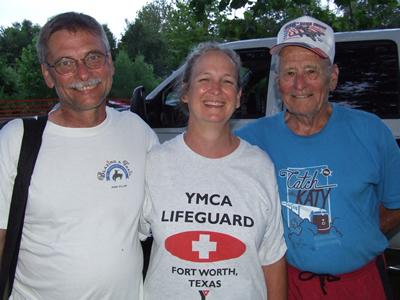 Richard Shields, age 83, St. Charles
Fourth Year Riding the Katy
Oldest rider this year
How did you first become interested in riding the Katy?
I've been biking all my life and it sounded like fun.
His son Bruce chiming in: "I remember when you first told me, I thought nooo way!"
Would you recommend this ride to others?
Definitely
Why?
Well, I think it's good for your health, the camaraderie and the older you get the more of a challenge it is. I have two false knees and have had two back operations and three stints.
What is your favorite thing about the ride?
The camaraderie, you meet a lot of people. I'm lucky that my daughter Rochelle Hord has been riding with me all four years, and I have family from Fort Worth that have ridden with me for the past two years.
What advice would you offer others?
Just keep getting out of bed and putting your feet on the floor and stay active.
What kind of training did you do to prepare for the ride?
My daughter and I rode 250 miles on the Katy and the Creve Coeur Trail to prepare.
Do you plan to ride again next year?
I intend to!