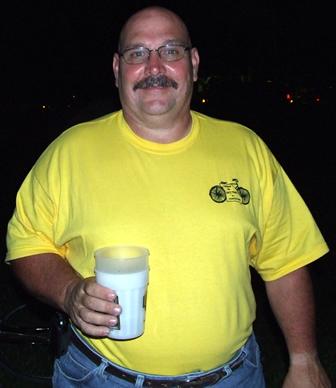 John Hilburn, age 51, Blue Springs
First Time Katy Trail Rider
Why did you decide to participate in the Katy Trail Ride this year?
My wife and I generally ride the Katy by ourselves. She's ridden it four full times and I've ridden it twice completely. I knew I was going to be on vacation, wanted a place to ride that was close to home and the Katy was it. I'm really glad we did.
What has been your favorite experience so far?
Just talking with the people. The volunteers, the staff, the other riders, everybody's been fantastic.
What kind of training did you do to prepare for the ride?
Starting in March, we began to ride the western half of the trail to get accustomed to the trail.
What advice would you give to first time riders wanting to try the trail next year?
Just to start out slow and ride! You have to ride an awful lot. Maybe start by riding 10-15 miles and then build yourself up to the longest ride scheduled.
Do you think you'll ride again next year?
If I'm on vacation again, yes!