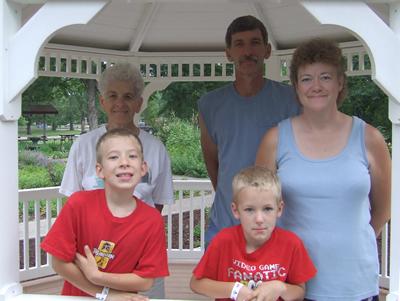 Ermilee Crow, 74, of Clever, Mo., has been participating in Cycle Across Missouri Parks (CAMP) rides since 1990 and with the exception of two rides, she has ridden in every CAMP and Katy Trail Ride since then.
This year, she has a special reason to celebrate. On this Katy Trail Ride, the Crows are getting Wild on the Katy with three generations spanning 68 years. Riding with Ermilee is Avery and Christine Crow, both 47, Bryant Crow, seven, and Jeremy Crow, six. Jeremy also happens to be the youngest rider on the ride this year.
Last year, Avery and Bryant decided to join Ermilee and this year, Christine and Jeremy decided to join in to make this year a true family experience.
So far it seems to be going good for the family. As Christine said, "We all made it today. We may have finished last, but we all made it."
Bryant accomplished his own milestone today. He pedaled the farthest distance he's ever done by himself today. He traveled from Clinton to Sedalia on his own steam, a distance of 39 miles!
Jeremy's holding his own and both boys are somewhat nervous but nevertheless excited for tomorrow's longer ride of 66 miles. It'll be the longest ride either of the boys have been on, but both are going to try their hardest to make it through the long day.

Ermilee herself is very excited to have her family here with her. What keeps her coming back year after year is her love of biking. "I just enjoy riding and the people are so friendly." She really likes that people take the time to know who you are and even call you by your first name.