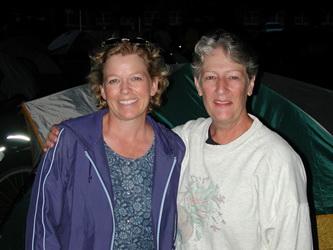 Rider: Pam Hayes
Age: 45
Hometown: Nevada, MO
Third Year on Katy Trail Ride
Rider: Lynda Shelman
Age: 57
Hometown: Wichita, KS
First Year on Katy Trail Ride
How did you get involved in the Katy Trail Ride?
Pam: The first year that I rode I didn't do the whole ride. I just did three days. I wasn't as prepared as I should have been, but I did better now.
Is the Katy Trail Ride anything like you expected?
Lynda: No, it's so much better than I expected. Everyone is just so friendly and the weather had been great. We've ridden on the trail during the weekends but it's really fun to get out and do the whole thing.
Pam: Well, the weather is much better than I expected after last year's. It has been beautiful everyday, except for the rain on Monday but that was nothing compared to Mokane last year.
How would you say the organization of the event has affected your feelings about the ride?
Lynda: It has just been so great. We couldn't say enough good things about the people that are riding and the people that make it happen. All of the kids have been great and Clarence is just so cool. And we love to harass Booker every chance we get.
Was there anything in particular you enjoyed about the towns along the trail and places we camped in?
Pam: We enjoyed being able to see the towns and all of the lovely homes that they have to offer. It was fun stopping in all of the little towns and just being able to talk with the people that run the shops and stores along the trail. All the people and places were just really enjoyable.
What would you tell people thinking about doing on the Katy Trail Ride in the future?
Lynda: That it's such a nice ride. The trail is beautiful and people are friendly. It's so good that it's a smaller size ride, too. You really get to know the people who are riding as well as the leaders. And the camping out is not as awful as I thought it would be at all; it's all quite wonderful.