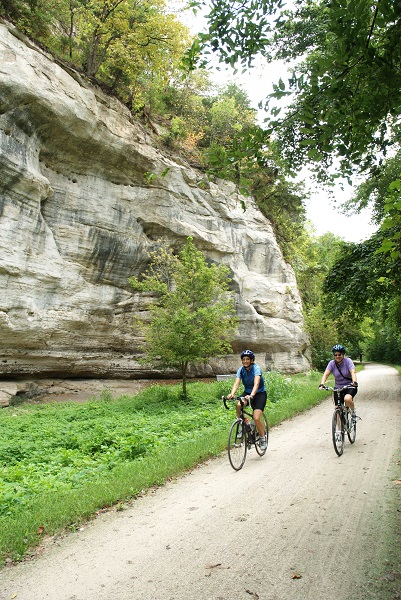 Katy Trail State Park is now open for approximately 240 continuous miles from Machens to Clinton. Katy Trail State Park has been designed specifically for bicyclists and hikers. Horses are permitted on the western section from the State Fair grounds in Sedalia to Calhoun and in the midwest section from Portland to Tebbetts. Although the trail is open, trail users should be especially watchful of rough areas on the trail due to washouts. Rough areas can occur at any time due to weather variations, so users should exercise caution. Users should also be aware that any of the following situations may be encountered:
Rough surfaces.
Washouts.
Downed or fallen trees.
Fallen rock or large rock on trail.
Water over the trail.
Maintenance, construction, mowing or farm equipment.
Vehicular traffic.
Wildlife or domestic animals.
Trail users should be alert to these conditions and exercise caution at all times. View current advisories on the Trail Advisory Map.
Katy Trail State Park is open for hikers, bicyclists and equestrian traffic from sunrise to sunset. The majority of the trail is accessible to wheelchairs.