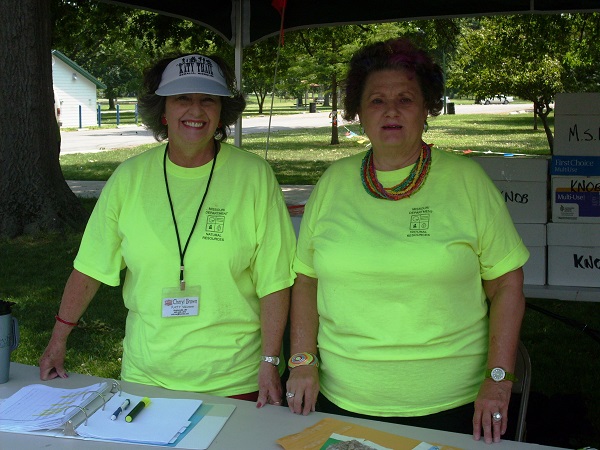 For Katy Trail riders wanting to provide a service and experience more of the trail, various volunteer opportunities are available. Missouri State Parks has long recognized the value and necessity of volunteers. Nearly all state parks in Missouri use volunteers, and Katy Trail State Park is no exception. Since 1997, the program has grown to include more than 100 trained and certified volunteers performing such roles as trail watch, interpretation, maintenance, resource management, special event coordination and greeter booths.
Potential volunteers are asked to sign up here and receive the required training. Training is offered through self-study and open book testing. Volunteer manuals and tests are mailed upon receipt of application. Applicants must be 18 years of age or older.
Certified volunteers receive a uniform shirt, bike vest and name tag. Volunteers must be able to provide their own transportation and bicycle if one is needed.
Superintendents stationed at Edward "Ted" and Pat Jones-Confluence Point, Graham Cave, Rock Bridge Memorial and Knob Noster state parks manage Katy Trail State Park in four sections. These superintendents supervise volunteers working within their section, and conduct meetings periodically.
You may sign up to become a Katy Trail State Park volunteer here. You may also contact the volunteer coordinator by email or by calling 573-751-7733.