Last year marked the 20th anniversary of Katy Trail State Park. To celebrate the 20th anniversary, the Missouri Department of Natural Resources planned special events, exhibits and programs to commemorate the occasion.
Ticket Book Program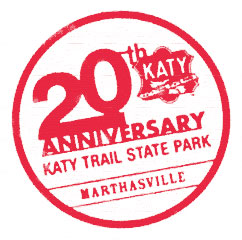 The ticket book program was designed to encourage people to visit every community along the Katy Trail corridor. The first 1,000 participants who collected a ticket book stamp for each community received a prize package that included a 20th anniversary t-shirt and water bottle.
Katy Trail Ride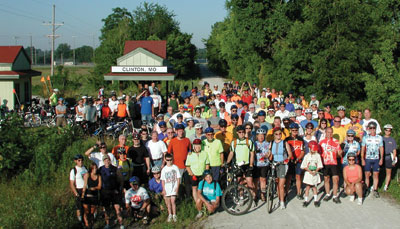 This annual ride attracted more than 300 cyclists on a five-day, four-night tour of the Katy Trail. The 20th anniversary ride started in St. Charles on June 21, and ended in Clinton on June 25. Overnight stops included Marthasville, Mokane, Rocheport and Sedalia.
20th Anniversary Event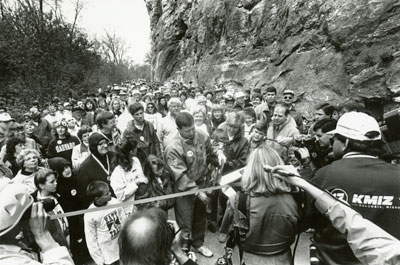 An event was held on Saturday, May 8, 2010, in Rocheport to commemorate the 20th anniversary of the April 28, 1990, official opening of the trail. A ceremony was heldin which Governor Nixon recognized Pat Jones and other founders who helped make the trail a reality. The event also featured a walk to the Ted Jones Memorial and a commemorative bike ride.
Other 20th Anniversary Activities
The Katy Trail State Park 20th Anniversary was highlighted with a commemorative display at many community events along the trail corridor. These events included but were not limited to:
| | |
| --- | --- |
| May 12 | Groundbreaking of Missouri River Bridge Bicycle Lane, Jefferson City |
| May 12 | Holts Summit Spur Trail Dedication, Holts Summit |
| May 21-23 | Best of Missouri Life Festival, Boonville |
| June 20-25 | 10th annual Katy Trail Ride, Katy Trail State Park |
| Aug. 12-22 | State Fair, Sedalia |
| Oct. 9-10 | Pumpkin Festival, Hartsburg |
HISTORY
Katy Trail State Park would not be possible without the support of Ted and Pat Jones, who provided a generous donation to acquire the corridor and develop the initial trail. On April 28, 1990, more than 1,000 people joined Ted and Pat Jones at a ribbon-cutting ceremony in Rocheport to officially open the first segment of Katy Trail State Park. Over the next six years, the Missouri Department of Natural Resources constructed the trail in eastern and western segments along the 185-mile corridor between St. Charles and Sedalia. On Sept. 29, 1996, Pat Jones symbolically connected these eastern and western segments of trail at a ceremony in Jefferson City to create the longest rail-trail in the nation. An additional 37-mile section of trail from Sedalia to Clinton was completed Aug. 26, 1999, to extend the trail to 225 miles.
Edward Jones has continued the legacy of Ted and Pat Jones in supporting Katy Trail State Park. The company has provided funding for the Katy Trail State Park full-color marketing brochure and other Katy Trail events such as providing t-shirts for the 1996 connection ceremony. Edward Jones was the official sponsor of the 20th anniversary of Katy Trail State Park.