A Relic of the Past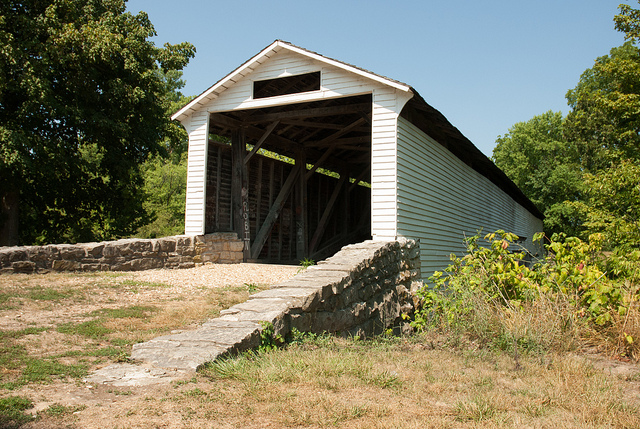 Covered bridges are a reminder of days gone by, representing slower-paced times and an era of fine craftsmanship. Union Covered Bridge, one of only four standing covered bridges in Missouri, is an example of these nostalgic structures.
Between 1849 and 1870, two uncovered bridges across the Elk Fork of the Salt River on the Paris-to-Fayette road failed. In 1870, four months after condemning the second bridge, the Monroe County court ordered a covered bridge to be built on this location, allocating $5,000 for it and a similar structure across the North Fork of the Salt River.
Joseph C. Elliot built the bridge, which is the only covered bridge left in Missouri representing the Burr-arch truss system, in 1871. The Burr-arch design, which Elliot doubled, was named for its creator, Theodore Burr. Burr had built so many bridges using that design that he is called by many the father of American bridge building. The other remaining covered bridges in Missouri used the Howe-truss design. There were many different truss designs, but only these two types have survived in Missouri.
The timbers in Union Covered Bridge are fashioned from local oak and fastened together largely with treenails or trunnels, with a few bolts and nails added for strength. Hand-riven clapboard siding and wooden shingles enclosed the bridge. It was completed approximately a year-and-a-half after the project began. The bridge is 120 feet long, 17 1/2 feet wide and has an entrance 12 feet high - high enough to admit a wagonload of hay.
Why a covered bridge? There are several reasons why communities began opting for covering their bridges. It kept the water out of the joints, where it might freeze during winter or cause rotting during the summer. Covering the bridge also strengthened the structure by making it more solid. The barnlike appearance of a covered bridge made it easier for farm animals to cross the river without becoming nervous. One unexpected result of covering bridges was that it provided a place for early entrepreneurs to advertise their products with signs painted or glued to the sides of the bridge, often without permission.
As weight loads increased with the arrival of the railroad industry, and since railcars were able to carry iron and steel to construction sites, wooden bridges were eventually replaced by metal bridges that did not require as much weather protection. The use of metal and concrete for vehicular bridges that could span greater distances than wooden bridges eventually led to the covered bridges' demise.
Union Covered Bridge has been threatened frequently by its three main enemies: high water, fire and neglect. The structure nearly succumbed to neglect in the late 1960s, but was restored in 1968 after the Missouri Legislature passed a bill authorizing the Missouri State Park Board to take possession of, repair and preserve the five remaining covered bridges in the state. The bridge was partially restored using materials from the Mexico Covered Bridge, which had been destroyed by floods shortly after the state took possession of it.
Two years later, the bridge was closed to all but pedestrian traffic after overweight trucks damaged its structural timbers. That same year, it was officially listed in the National Register of Historic Places. A second restoration of the bridge was completed in 1988, replacing rotted support timbers and warped siding and repairing failed joints.
Named after the nearby Union Church, Union Covered Bridge served travelers in Monroe County for 99 years and remains an important structure in the area's history. It served not only as a bridge, but also as a local landmark, emergency shelter and signboard. Today, it serves as a state historic site and the scene of an occasional baptism or wedding.
Take time to visit Missouri's other standing covered bridges - Locust Creek Covered Bridge in Linn County, Sandy Creek Covered Bridge in Jefferson County and Burfordville Covered Bridge in Cape Girardeau County.