The King of Ragtime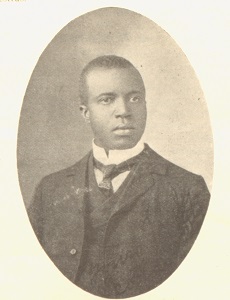 Scott Joplin was born to Giles and Florence Joplin in northeast Texas among the first generation following Emancipation. He exhibited musical talent at an early age and was able to play several instruments as well as compose and improvise his own music. Mastering both the formal structure of classical music and the free-flowing, improvisational and artistic expression of Black musicians from the minstrel tradition, Joplin became a leading exponent of a new, syncopated musical genre. He was "The King of Ragtime Writers."
Traveling throughout the country, Joplin plied his musical trade in railroad towns and riverfront cities; his audiences were largely patrons of saloons, brothels and restaurants. However, his musical reputation soon transcended Black audiences and backroom venues and captured the listening ear of the middle class white community. By the late 1890s, he established roots in Sedalia, Missouri, where he studied music at George R. Smith College. While in Sedalia, his experimentation with intricate musical rhythms led him to create his first well-known published work, the "Maple Leaf Rag." In an era before instant communications, "Maple Leaf Rag" became a national sensation in the form of sheet music, printed by Joplin's Sedalia publisher, John Stark.
Buoyed by this success and a growing national reputation, Joplin moved to St. Louis in the spring of 1901. He moved into a room of the flat at 2658A Morgan St., now Delmar Boulevard. While living there for about a year and a half, he produced some of his better known compositions: "The Entertainer," "Elite Syncopations," "March Majestic" and "Ragtime Dance." With royalties coming in from his musical creations, he began to perform less and became more of a teacher and composer. During this productive time in St. Louis, Joplin also wrote his first major serious composition, an operatic piece called "A Guest of Honor," which had as its setting the Missouri Governor's Mansion in Jefferson City. The original score for this work was lost, and it can no longer be performed.
In 1907, Joplin moved to New York to increase national recognition and further his success. Following his inability to stage his most ambitious work, the opera "Treemonisha," and weakened by a fatal disease, he died April 1, 1917, at the age of 49. He was buried in a grave that remained unmarked until 1974.
Ragtime enjoyed a renaissance in the early 1970s when the motion picture "The Sting" used "The Entertainer" as its theme music. Today, ragtime remains a part of the American musical scene.
Joplin's St. Louis home was placed on the National Register of Historic Places in 1976, and in 1984 Macler Shepard donated the property to the Department of Natural Resources' Division of State Parks. The visitor center exhibits depict the history of the site and the neighborhood along with additional details about his life and work. The working player piano in the music room allows visitors to listen to piano rolls of the ragtime era, including some that were cut by Joplin himself. The second-floor flat he shared has been furnished unpretentiously, in turn-of-the-century style. Gas lights, calcimine paint and antique furnishings re-create the modest lodgings of Joplin's St. Louis years. Complementing the restored Joplin flat is The Rosebud, a replica of the turn-of-the-century bar and gaming club owned by Tom Turpin that once operated in the area.