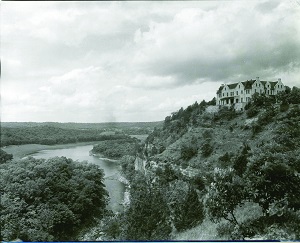 Today's visitors are not the first to be attracted to the remarkable beauty and wonders found in the area. The spring water, wooded hills and abundant wildlife attracted both American Indians and settlers. The journals of many settlers and explorers in the early 1800s mentioned the remarkable features of the area. The first permanent mill was established in 1830 by a man named Garland, who dammed the lower end of the spring and constructed a gristmill. Remnants of a mill can still be seen on the trail to the spring. Garland was linked with a band of counterfeiters who used several caves in the area.
In 1903, Robert M. Snyder, a wealthy Kansas City businessman, visited the area and was so impressed that he began purchasing land to build his private retreat. He envisioned a European-style castle with 60 rooms and a center atrium rising three and one-half stories to a skylight. He also planned a water tower, greenhouses and stables. The materials were extracted from the area, with sandstone quarried nearby and transported by a mule-drawn wagon and miniature railroad. Construction began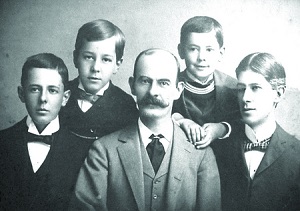 in 1905 but was halted a year later with the death of Snyder in one of the state's first automobile accidents. Snyder's sons finished the structure in 1922, although not quite as elaborately as originally planned. The castle originally overlooked a small spring-fed lake. In the 1920s, Snyder's fought to stop the construction of Bagnell Dam but failed. The resulting Lake of the Ozarks divided the estate and consumed the small lake.
Eventually, the property was leased for use as a hotel. In 1942, sparks from a chimney ignited the roof and the fire gutted the castle. The carriage house burned the same day and in 1976, the water tower was burned by vandals. Today, only the ruins remain.
Efforts to preserve the area as a state park began in the early 1900s when Missouri Gov. Herbert S. Hadley visited the area. After several failed attempts, Ha Ha Tonka State Park was created in 1978. Since that time, the park has fascinated visitors with its geologic wonders, mysterious castle ruins and recreational opportunities for a day of relaxation and fun.