Missouri's Karst Showcase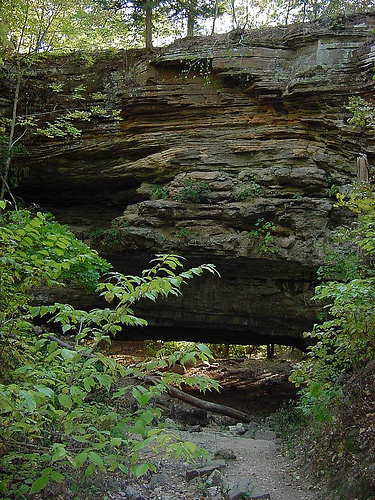 First Native Americans and then early explorers were drawn to the Niangua country and the remarkable beauty of the area around what today is Ha Ha Tonka State Park. The Boones were there, both Daniel and son Nathan, fur trapping in the first years of the 19th century. Zebulon Pike passed nearby on his way to explore the West. Settlers and visitors alike were awed by what they encountered.
In 1909, Missouri Gov. Herbert S. Hadley proposed the area as Missouri's first state park, but it was not to be until 1978. It is Missouri's premiere showcase of karst geology (see also Ha Ha Tonka Karst Natural Area) , and Ha Ha Tonka State Park is unique in the quality and number of its remarkable geological features. A natural bridge, 70 feet wide, spans 60 feet and reaches more than 100 feet into the air. The Colosseum is a steep-sided sinkhole measuring 500 feet long and 300 feet wide. Whispering Dell sink basin is 150 feet deep with two bluff shelters -- Counterfeiter's Cave and Robber's Cave -- both of which were used as hide-outs by criminals in the 1830s. Tall bluffs -- 250 feet high -- tower over the gorge through which Ha Ha Tonka Spring, Missouri's twelfth largest, discharges approximately 58 million gallons of water daily. All of these wonders are the result of the collapse of underground caverns in ancient geological times. Today, the spring is issuing from the mouth of a portion of the cave that still exists and continues to be sculpted within the earth.
Trails and boardwalks make it easy for visitors to experience this honeycomb of tunnels, caverns, springs and sinkholes. Visitors can peer into caves, trek through and around sinkholes, or climb from the spring to the castle on wooden steps that circle the spring chasm. A visitor center features a large relief map of the park carved from stone.
High on a bluff overlooking Ha Ha Tonka Spring and Lake of the Ozarks sits the ruins of a stone mansion that represents the most intriguing story associated with the park.
Robert M. Snyder, a wealthy Kansas City businessman, first visited the site in 1903 and was so impressed that he eventually purchased more than 5,000 acres. He envisioned a private retreat with a European-style castle, with a center atrium rising three and one-half stories to a skylight. Snyder also planned an 80-foot-high water tower, greenhouses and a carriage house. Construction began in 1905 only to be halted a year later with the untimely death of Snyder in one of the state's first automobile accidents. Snyder's sons finished building their father's dream, though not quite as elaborately as originally planned. Eventually, the property was leased for use as a hotel, until tragedy struck in 1942. The entire interior was gutted by fire when sparks from a chimney ignited the roof. The carriage house burned the same day and in 1976, the water tower was burned by vandals. Today only ruins remain.
Ha Ha Tonka State Park also contains one of Missouri's best examples of a woodland landscape. Woodlands are areas neither totally forest nor totally prairie, where prairie grasses such as little bluestem and Indian grass flourish in open forests of post oak, blackjack oak, black hickory and white oak. More than 400 species of plants have been recorded here, with wildflower displays changing throughout the summer. A large section is protected as the Ha Ha Tonka Oak Woodland Natural Area. A short self-guiding nature trail, as well as a seven-mile backpack trail, allow visitors to experience this rich woodland landscape.
Several large glades can also be found at the park. Often referred to as Missouri's "deserts," glades contain plants and animals more usually associated with the southwestern United States. Glade inhabitants include the large yellow-flowered Missouri evening primrose, the Missouri brown-eyed Susan, prairie scorpions and the Missouri tarantula.