Located on Missouri's largest oxbow lake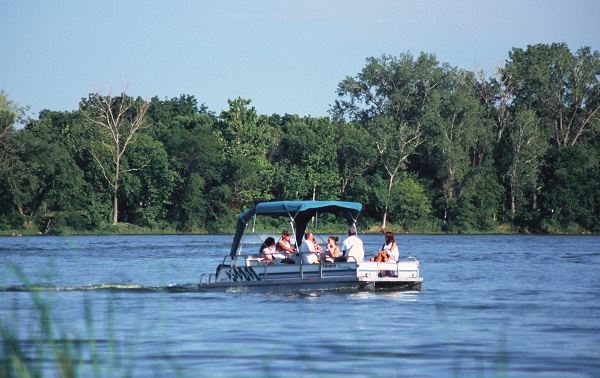 When Europeans first set foot on what is now northwest Missouri, they encountered a maze of shallow riverbeds, bottomland forests, marshes, wet prairies and lakes all teeming with fish, waterfowl and large animals. The meandering Missouri River left huge deposits of rich alluvial soils in its unchannelled wake, occasionally cutting off a loop of its own course. As the looped area filled with sediment, the water left standing in the loop became what was known as an "oxbow lake," because its 180-degree curvature resembled the "bow" part of an oxen yoke.
Big Lake is the largest remaining oxbow lake in Missouri and has attracted both settler and visitor alike for more than 100 years. Probably formed before 1804, it is quite possibly one of the lakes Lewis and Clark described in their journals as they explored the Missouri River and lands contained in the Louisiana Purchase.
The shallow lake had long enjoyed a reputation as a recreational and resort area and following the flood of 1929, interest grew to create a state park. The initial lakefront acreage was purchased in 1932, creating one of the first public recreation areas in northwest Missouri.
Growing along the banks of the lake are riverine plants such as peach-leaved willow, black willow, bulrush, rose mallow and sandbur. The lake contains fish populations of bass, catfish, crappie and carp. Wildlife such as map turtles, smooth soft-shelled turtles, wintering American bald eagles and a variety of waterfowl are commonly found.
The lake continues to provide excellent recreational opportunities. Big Lake is a favorite spot in northwest Missouri for boating and fishing, and a boat launch is available in the park. Picnic tables dot the shoreline, nestled under cottonwood and walnut trees. An open picnic shelter with electricity can be reserved for various functions. A swimming pool, with hot showers and a changehouse, is available. The campgrounds contain both basic and electric campsites, as well as modern restrooms, hot showers and a dump station. Premium camper cabins are also available for overnight guests.
In 1989, the Missouri Department of Natural Resources took another step in its mission of preserving the best remnants of Missouri natural landscapes when it purchased almost 300 acres of wetlands adjacent to the lake. This nearly quadrupled the size of Big Lake State Park, and added a major wetland ecosystem to the park system. Big Lake State Park now contains the biggest single marsh in all of Missouri's state parks.
Wetlands, one of the world's most productive environments, are becoming increasingly scarce. They provide necessary stopovers for migratory waterfowl and other birds as well as offering abundant shelter for a variety of wildlife. At Big Lake State Park, visitors have a chance to see such an intricate ecosystem in action. This marsh area, with its lush aquatic vegetation, provides an ideal refuge for a variety of wetland bird species such as the yellow-headed blackbird, bitterns, soras and rails. Periodically visitors are treated to spectacular bird shows, as great blue herons, pintails, teals, mallards, snow geese, cormorants and American white pelicans migrate through one of the last remaining natural wetlands in north Missouri.