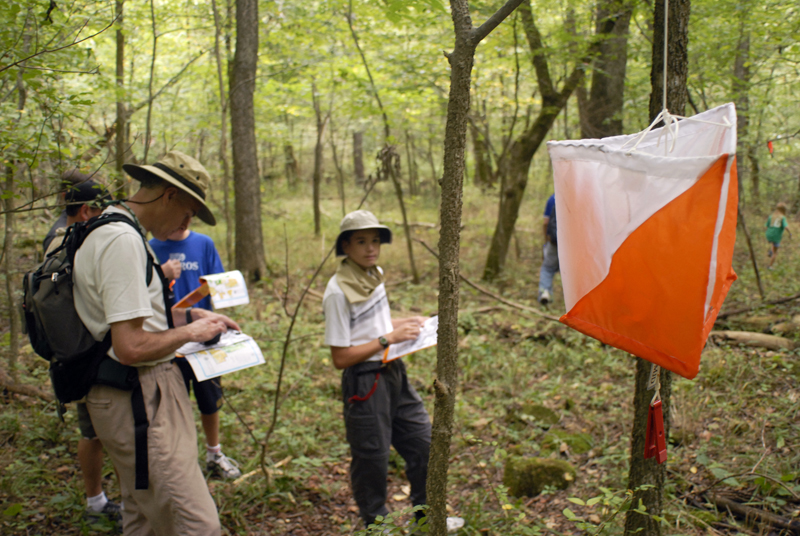 Orienteering involves finding one's way through various terrain using a compass, topographical map and land navigation skills. A TRIM orienteering course is one with permanently installed markers or control stations. (The word TRIM originated in Scandinavia to describe a program of lifetime participation in fitness activities.) The goal is to find the markers, write down the two-digit code as proof of finding the station, then check the code against the answer key to see if the correct markers were found. Our course is designed for either competition or as an excellent opportunity for individuals, families, and school, civic and military groups to practice map reading and land navigation skills.
The Rock Bridge TRIM Orienteering Area consists of 30 markers numbered 11-40 located throughout the park west of Highway 163. Each marker has two red-and-white-striped Carsonite posts placed perpendicular to each other with lettering on one side. The markers are 3 to 4 feet high and placed in the center of the circles shown on the park orienteering map. Visibility varies with vegetation. The TRIM area encompasses woodlands, grasslands, hills, hollows, creeks, ponds and sinkholes. 
Groups of 15 or more people must reserve the course in advance online. Individuals and groups smaller than 15 do not need to make reservations. The maximum group size per day is 150. The course is open daily from 8 a.m. to 5 p.m. Since only one group is permitted to use the course each day, you must reserve the course for the whole day, even if you do not plan to be on-site for all nine hours. If you wish to use the course outside of this time frame or if you have more than 150 people, please email the park. 
Reservations are for self-directed use of the orienteering course ONLY. No instructors, maps, compasses, GPS units or facilities are included. If you need to purchase maps or an orienteering packet, you may do so at the park office. Maps are $1.50 each for fewer than 25 maps, 75 cents each for 25 to 49 maps and 50 cents each for 50 or more. Orienteering packets are $5 each and include information about the course, suggested routes for various difficulty levels, the answer key and three orienteering maps. Prices do not include sales tax. If your organization is tax-exempt, you will need to provide a copy of your tax-exempt letter at time of purchase to avoid being charged sales tax.
If you wish to make reservations for a park-led orienteering program, a shelter house, an interpretive program, or the special-use camping area, please call 573-449-7400 or visit the park office. Reservations for these services are not available online.
If you have any other questions or comments, please call the park at 573-449-7402.