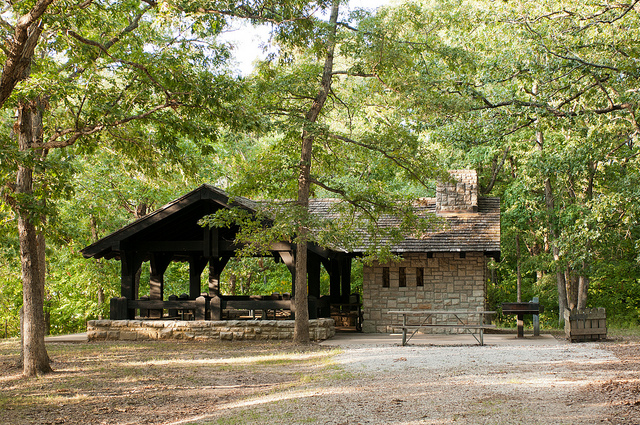 Enjoy a picnic lunch at one of two picnic areas located in the park:
Buzzard's Roost Picnic Area has about 30 individual picnic sites. The overlook in this area offers a panoramic view of Mark Twain Lake and is one of the most photographed locations on the lake. The Buzzard's Roost area also features a nine-hole disc golf course.
The Highway 107 Boat Ramp Picnic Area has six picnic sites and is located near the boat ramp off of Highway 107.
All picnic sites are available on a first-come, first-served basis.
Picnic Shelters
There are two shelter houses located at Buzzard's Roost Picnic Area.
The open shelter, built by the Civilian Conservation Corps, holds between 40 and 45 people. It is available by reservation (rental fee is $40), or if not reserved, is available at no charge to users on a first-come, first-served basis. The building has picnic tables, electrical outlets, a water hydrant and an outdoor cooking grill.
An enclosed shelter, known as Huck Hall, is available by reservation only. The building holds up to 100 people and rents for $125 a day. It has folding tables and chairs, two modern restrooms, a small kitchen with a refrigerator and stove and two outdoor cooking grills. Groups larger than 100 need special permission from the facility manager to use Huck Hall.
Shelter Reservations
To reserve a shelter or check for availability, visit our reservation page* or contact the park at 573-248-9980.
*Shelters can be reserved online from 30 days to 12 months in advance of the day of use. Reservations for arrival dates less than 30 days out can be made only by contacting the park.
Playground
A modern playground, completed in 2002, is perfect for the kids and is located in Buzzard's Roost Picnic Area.