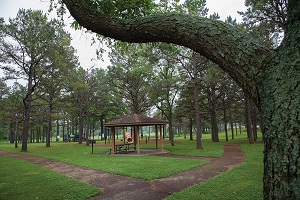 Nestled in a 1960s reforestation pinery near the visitor center, you will find a picnic and playground area. The site's peaceful setting offers a great place for a quick picnic or an afternoon gathering of friends and family.
Picnic Shelters
There are three small open shelters and one larger shelter, and while all are largely ADA accessible, the larger one is maintained as such. The small shelters accommodate six people and the larger shelter will accommodate 15 to 20 people. Water and electric are available at or near each site and modern restrooms are nearby as well. The big shelter can be reserved for $40 a day. All of the shelters can be reserved for $150.
Shelter Reservations
To reserve a shelter, visit our reservation page, or contact the historic site to check for availability by calling 573-546-3454.
Playground
The playground area includes a multi-function set and tot-swings. A small "fort" for children to re-create the battle scene is also nearby.