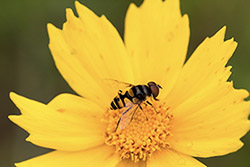 Missouri State Parks is proud to be a supporter of National Pollinator Week and provide refuge for Missouri pollinators. National Pollinator Week, June 21-27, 2021, was designated per proclamation signed by U.S. Environmental Protection Agency (EPA) Administrator Michael S. Regan. National Pollinator Week is meant to elevate awareness of pollinator importance, and inspire practices to benefit those crucial to pollination and seed production in our native wildflowers, a wide assortment of Missouri native trees and shrubs and many kinds of food and forage plants. Missouri is home to 460 types of bees, nearly 400 species of butterflies and moths, many species of flower flies, hummingbirds and several kinds of ants, wasps and beetles that serve these pollinating roles. 
What is Missouri State Parks' role in the protection of pollinators? Pure and simple: pollinators must have flowers for the nectar and pollen that feeds them and their offspring. The ecosystems of most state parks and historic sites grow native wildflowers at a grand scale. Missouri state parks have the means, mission and opportunity to foster flowers in extraordinarily large numbers, among hundreds of species, over large spaces, in richly diverse landscapes, across the full growing season, year-after-year-after-year. Success in Missouri state parks is preserving the floristic best of our native and domestic landscapes, at the scale we operate in every day. Our team is positioned to provide this service to both pollinators and the public, and our niche among Missouri's many turning wheels of pollinator conservation. 
State parks are nature preserves, with vast acreage to have a significant effect. As part of our mission and dedication to the state of Missouri, Missouri State Parks is making an impact in three major ways:
Preserving large natural environments. Natural landscapes are filled with rich mosaics of native ecosystems, each with their signature array of flowering plants to feed native pollinators. The large nature preserves in state parks support rich pollinator populations and perpetuate abundant nest habitat among all the right kinds of specialty foods, providing reservoirs of pollinator diversity in Missouri.
Sustaining prescribed burn rotations. For many natural communities, fire brings light and opportunity for Missouri's more than 2,000 plant species. Prescribed fire lets them thrive, induces floral richness and diversity, and promotes flower abundance. Healthy, diverse pollinator populations need this variety and abundance of flower types across multiple natural communities for the entire growing season.
Combating noxious invasive weeds. The greatest contemporary threat to otherwise healthy natural places is losing the variety and abundance of flowers to an overwhelming surge of exotics. Controlling exotic and invasive weeds protects the native plants and the natural ecosystems pollinators need. Every state park and historic site has a plan dedicated to exotic species control with an annually updated list of weed control projects, varying by season.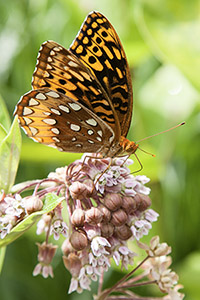 One way that you can foster the ecosystem for pollinators at your own home is by providing the opportunity for flowers to develop in mowed or manicured settings. Open fields, road margins, wood line edges, mowed tree-scapes, and lawns all harbor wildflowers. It is surprising how many wildflowers can exist in these settings. Where it is possible, look for areas that you can effectively delay mowing, or leave edges or select areas un-mowed long enough to let them flower will attract pollinators. Watch closely and you'll be amazed at the array of miner bees, cellophane bees, nomad bees, orchard bees, metallic bees, furrow bees, queen bumblebees, small carpenter bees and the many kinds of flower flies that appear in a short time.
Missouri state parks provide large refuges that support immense reservoirs of Missouri's native plants and pollinators. Missouri State Parks is dedicated to maximizing the quantity of natural spaces with quality landscape-scale natural communities. We invite you visit a state park or historic site to experience native pollinators in their natural state park environments, through interpretation and general awareness of the opportunity that comes from our unique mission to preserve and interpret Missouri's natural landscapes.
Happy National Pollinator Week!