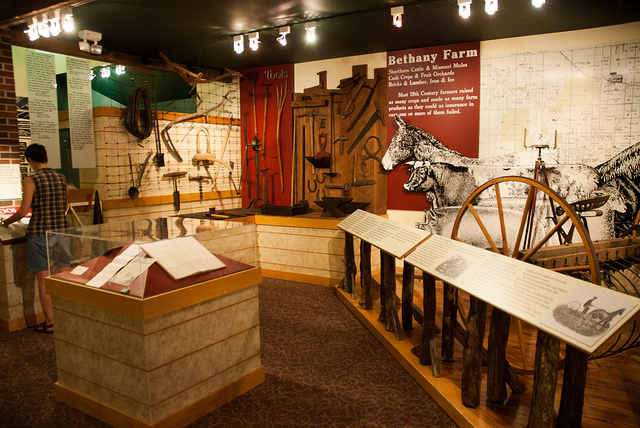 The visitor center is where you will want to start your discovery tour of the Watkins Woolen Mill complex. A short orientation program and exhibits will enhance your visit to this National Historic Landmark and National Engineering Landmark. Entrance to the visitor center is free. Guided tours of Watkins Woolen Mill and Watkins House are available for a nominal fee. The visitor center is accessible and includes restrooms, a souvenir sales counter and a beverage vending machine. In addition, the museum also includes climate-controlled storage facilities for the historic site's archives and artifact collections and a conservation and exhibit work area.
Hours
April 15-Oct. 31
9:30 a.m. to 5 p.m., Monday through Saturday
10:30 a.m. to 5 p.m., Sunday
Nov. 1-April 14
9:30 a.m. to 4:30 p.m., Monday through Saturday
10:30 a.m. to 4:30 p.m., Sunday
On the following days (actual or observed), staff will not be available and park buildings will be closed: Thanksgiving Day; Nov. 24, 2023; Christmas Eve; Christmas Day; New Year's Eve; New Year's Day; Martin Luther King Jr. Day; Lincoln's Birthday; and Presidents Day. 
Weather