Missouri State Parks is closely monitoring the progression of COVID-19 and its effects in Missouri. While safety, stewardship and service are all very important to Missouri State Parks, safety is the top priority. The latest information from Missouri State Parks on COVID-19 can be found here. A full list of temporary closures can be found here.
While it is a great time to get outdoors, we all must remain diligent in taking steps to make your visit as safe and enjoyable as possible. Services are currently limited at this time so when you head out to a park, please be prepared. Please do your part in flattening the curve and minimizing the spread of COVID-19, while experiencing the great natural and cultural resources Missouri state parks have to offer. Whether exploring trails by foot or by bike, physical activity is beneficial for both physical and mental health. Outdoor spaces are well-suited to increased social distance, and fresh air is a great way to calm your mind.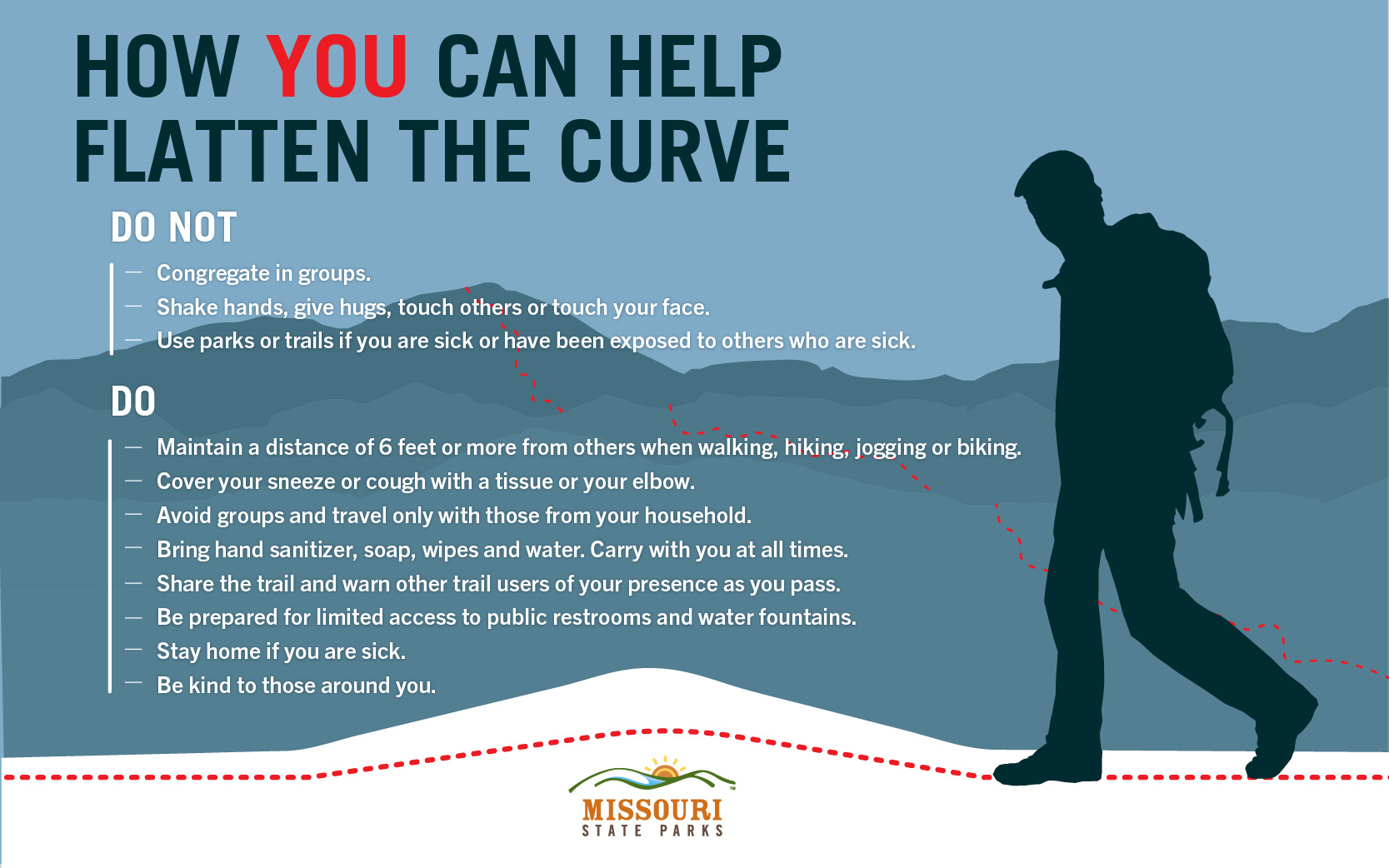 During the pandemic of COVID-19, it's important to understand our parks are experiencing high traffic, so please come aware and prepared to share the outdoors with others. The situation is evolving rapidly so before you head out to a park, visit https://mostateparks.com/response for the latest actions taken in response to COVID-19.
If the park looks full, it probably is. One of the amazing things about Missouri is the number of parks and outdoor spaces we have available. If the park you intended on visiting is overcrowded, you can find another park near you at https://mostateparks.com/find-a-park.
Other tips to remember to stay healthy and safe:
Do not hold social gatherings. Postpone or cancel social gatherings that include more than one household.
Stay 6 feet away from people you do not live with. Share the trail and yield to others to maintain a safe distance. Be respectful and kind to others.
Choose less frequented parks and trails. Do not park in a crowded parking lot or use a crowded trail. If the park looks or is full, pick another park. We have Missouri State Parks in every direction. Find a park near by visiting www.mostateparks.com.
Examples of safe activities to do solo or with people living in the same household:

Hiking and walking
Biking
Birding and wildlife watching
Fishing
Kayaking and canoeing
Playing Frisbee or catching or kicking a ball
Sitting under a tree, reading, writing, listening to music, drawing

Many of our restrooms are closed due to visitor center and office closures. Portable toilets have been moved in for those locations with restrooms impacted by closures. Plan ahead before leaving home. Bring hand sanitizer, soap, wipes, water and any other items you may need.
Do not use water fountains or playgrounds. (Missouri state park playgrounds are temporarily closed.)
Keep your dog on a leash. Treat your dog as a family member by keeping them distanced from others and other dogs. Clean up after your pet.
In addition to the tips mentioned above, please be respectful of our great cultural and natural resources by following the established park rules. Be safe and stay healthy!