10/2/2020 to 10/4/2020 | Wallace State Park | Cameron, MO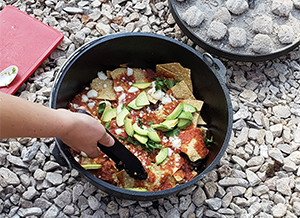 This event has been cancelled.
Hey, ladies! Have you ever wanted to explore the great outdoors but did not know where to begin? Come to Wallace State Park and experience a weekend of camping, cooking and outdoor adventure taught by all female instructors. This weekend is intended to be educational and relaxing. Whether you are new to camping or consider yourself an expert, we will help you gain a few new skills and improve your techniques in a relaxed, fun and supportive atmosphere. 
---
Activities:
Guided Hike: (High)
Enjoy a guided interpretative hike with the park naturalist at Wallace State Park. During the course of the hike, you will learn how to identify plants along the way as well as the basics of reading and using a map for hiking. This hike will last roughly an hour and a half and we recommend you wear sturdy shoes and bring plenty of water.
Beginner Orienteering Course: (Moderate)
Orienteering involves finding one's way through various terrain using a compass, topographical map and land navigation skills. The object is to make your way through a series of points identified on a map and return to the finish line. 
Fishing Basics: (Moderate)
This class will offer instruction on the basics of fishing including casting, bait, reeling and catching the fish. All equipment will be provided, but feel free to bring your favorite rod, reel and tackle.
Dutch Oven Cooking: (Low)
Saturday evening dinner will utilize Dutch oven cooking. Participants will learn the basics of cooking with a Dutch oven. There will be instruction as well as hands-on experience as you prepare and cook your own dinner in the great outdoors.
---
Location:
WIN will take place at Wallace State Park in Campground 3.  All transportation to activities within the park will be provided.
---
Accommodations:
Participants will be camping in tents at Campground 3 for the weekend. Basic campsites will be reserved in advance for event participants. Participants are welcome to bring their own outdoor gear; however, tents, tarps and sleeping pads will be provided for the weekend if needed.  A shower house and restrooms are available onsite.
---
Registration/Fees:
Registration is $40.
Maximum of 20 participants. The classes are $40, and registration is required. Click on the "REGISTER HERE" link below to register. When you get to the registration website, you will need to enter "WIN" in the "Search Text" box. The classes that are currently open for registration will pop up. Registration closes five weeks after the registration open date. All slots will be filled on a first-come, first-served basis.
REGISTER HERE – Registration OPENS AUG. 24
If a class is full, you will have the option to register for the wait-list. If you register for the wait-list and a spot becomes available, you will be sent an email asking if you are still interested. You will have 24 hours to reply and secure your spot.
If you have any questions, please email rebecca.young@dnr.mo.gov.
Non-Transferrable Registrations
WIN registrations are non-transferrable to any other person(s) for any reason at any time. If a cancelation is necessary, please see cancellations below.
Age Requirements
Participants who are under the age of 18 years must be accompanied by an adult 18 years or older.
Cancellations:
All cancelations will need to be done over the phone or via email.  Please contact Rebecca Young at 573-751-9264 or Rebecca.young@dnr.mo.gov.
---
Confirmation Packet
WIN participants will receive a confirmation email after registration has been completed (please allow for five days for processing). The confirmation email will include a detailed agenda and special instructions (including what to pack and what to expect).
---
Program Changes
Organizers reserve the right to cancel, reschedule or relocate any proposed offering without prior notice. Insufficient enrollment or emergency cancellations by the instructor are examples of why a program offering could be canceled. Organizers also reserve the right to substitute instructors if necessary.
---
*Physical Activity Guide
Please be advised that WIN is an outdoor and active weekend. Participants will be walking on tread surfaces at times that contain roots, embedded rocks and have minimal elevation change. Additionally, you will park your car away from camp activities and it will remain parked for the event.
To help participants anticipate each course and know what physical levels to expect of each class, a physical activity rating system has been created. Listed in the class description, you will find a physical level rating for each course.
Low: Requires minimal physical skill/endurance (Example: Lecture-based and hands-on activities in a classroom setting.)
Moderate: Requires moderate physical skill/endurance (Example: Lecture-based and hands-on activities while standing and short walks.)
High: Requires high levels of skill/endurance (Example: Lecture-based and hands-on activities while standing, hiking, lifting and full-body movement.)
---
For more information
If you have any questions, please contact Carol Clark with Missouri State Parks at carol.clark@dnr.mo.gov.
10621 NE Hwy. 121, Cameron, MO | (816) 632-3745
Associated activities
Fishing

Hiking

Interpretive Programs

Orienteering