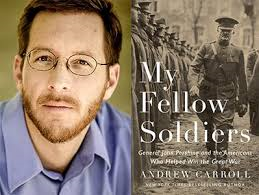 Please join for a military honors ceremony and program titled, "Welcome Home."  Soil has been collected from the eight First World War cemeteries established by General Pershing as Chairman of the American Battlefield Monuments Commission, (ABMC). The soil will receive a blessing of eternal resting peace from representatives of area religious denominations to include representatives of the Cherokee, Choctaw and the Muscogee Creek nations.
The ceremony will have Missouri State Commanders of the American Legion and the Veterans of Foreign Wars give remarks on the importance and significance of this project for Missouri. Retired Brigadier General Larry Kay will speak of his grandfather who fought in Meuse-Argonne Offensive of 1918. General Kay will recite a poem written by his grandfather about the offensive.
David Shuey will portray General Pershing and deliver Pershing's solemn remarks given on July 10, 1921, when Pershing received the first remains from Europe at the port in Hoboken, New Jersey, to be re-buried in the United States.
The featured speaker at this event will be Andrew Carroll. He will speak to the longing for home many soldiers and marines of the American Expeditionary Force, (AEF) felt and conveyed in their correspondence and letters home. Carroll is the chairman of the War Letters Commission and the World War I Legacy Project. He is the author of the books My Fellow Soldiers and War Letters.  Carroll will be making a special announcement regarding the War Letters Commission. He will be donating personal hand written letters by General Pershing to the Pershing Memorial Museum and Leadership Archives. Following the program, Carroll will be available to sign his book My Fellow Soldiers that focuses on General John J. Pershing. The book can be purchased in the site gift shop.
If you have any questions, please contact the historic site at 660-963-2525.
Event time: 1 p.m. - 3 p.m.
1100 Pershing Dr., Laclede, MO | (660) 963-2525