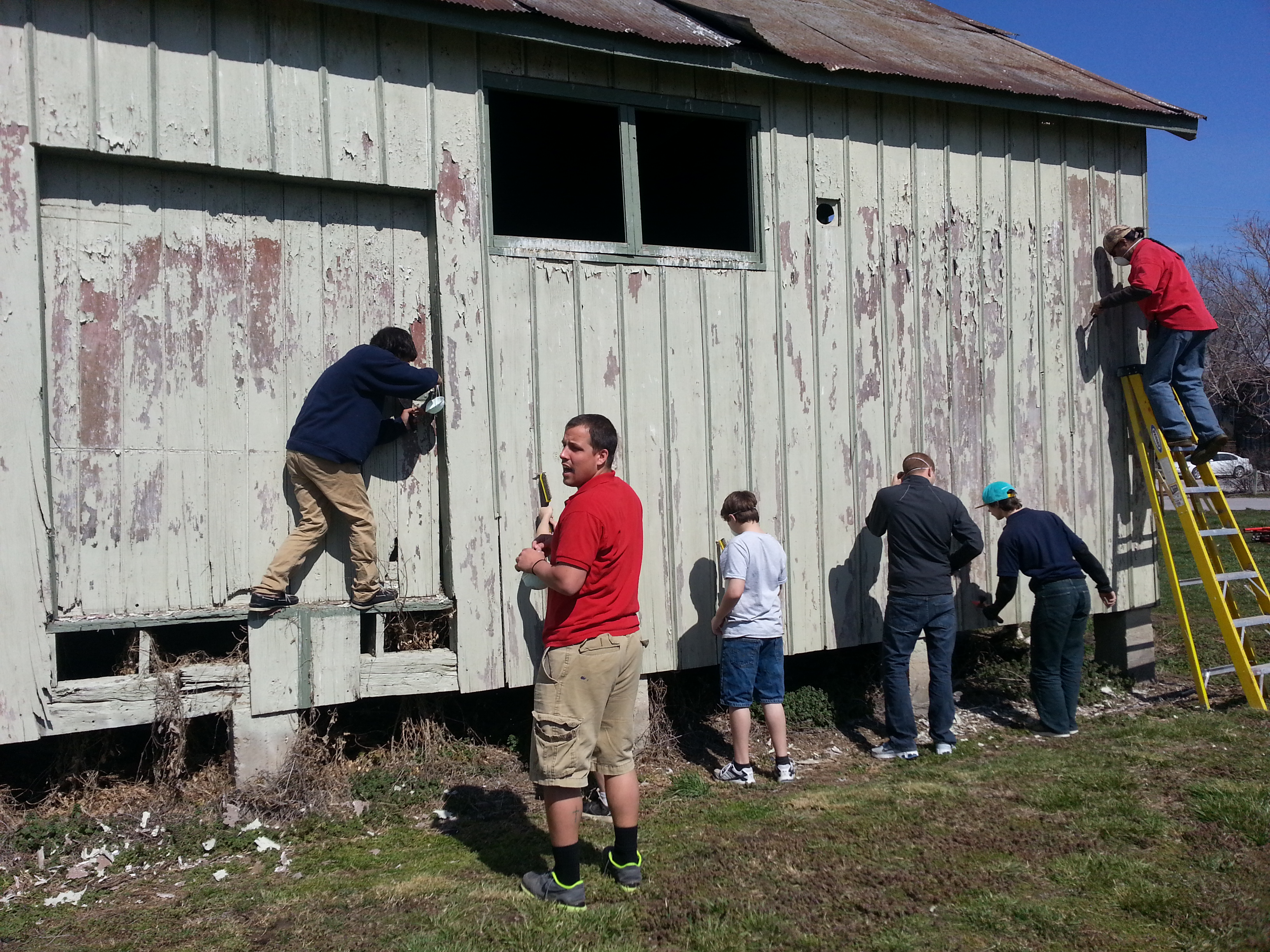 Is your organization or family looking for a way to volunteer some time and make a difference? Organizations, families and businesses now have the opportunity to adopt an area or project in a state park or historic site. Here is how it works:
Check out the adoptable areas and projects for the facility where you are interested in volunteering by clicking on the park/historic site to the right.
The group leader should contact the facility to discuss options and a potential schedule.
The group commits to two years of service, completing 200 volunteer hours each year.
Once your group or family adopts an area or project, they will be recognized on this webpage. After 100 hours of service, a sign recognizing your group's efforts will be placed at the park or historic site.
Click here for more information about volunteer opportunities.
Adoptable Areas and/or Projects for Each Facility
Adoptable Areas/Projects:

Adopted by:

Special-Use Area
Push mowing
Weed-eating
Trimming brush
Cleaning out fire grates

Available

Campground
Clean out fire grates at 47 campsites

Available

Overlook
Trim and remove brush to keep view open

Available

Trails
Maintain Pierre a Fleche and River Landing trails
Repair and smooth out tread ways
Trim intruding brush and branches
Remove downed limbs and trees from trail

Available

Grounds Maintenance
Rake the lots on both sides of the J. Huston Tavern, courthouse, Bingham house, and Hall house
Weed iris and lily beds
Trim shrubs and hedges

Available

Sidewalk
Pull and relay brick walk at Korte House and courthouse and fronting Main Street at Hall house

Available
Adoptable Areas:

Adopted by:

Available

Guy Park Road (valley area)

Available

Guy Park Road (front gate to visitor center)

Available
Available
Available
Available
Available
Available
Available
Available

Equestrian Trail (trailhead to stable on east side of park)

Available

Equestrian Trail (stable to trailhead on west side of park)

Available

Picnic Shelters (Cochran and Walnut Grove)

Available
Available

Special-use Area/Amphitheater

Available
Adoptable Areas/Projects:

Adopted by:

Shut-ins swimming hole/Shut-Ins Trail
Trash pickup

Available

Paved Bicycle Trail
Exotic species removal

Available

Equestrian Campground
Exotic species removal

Available

Big Creek Glade Wild Area
Cedar removal

Available

Hiking Shelters
Graffiti removal

Available
Available
Available
Available

Graffiti removal from picnic tables

Available

Set rock at fire tower and cabin area

Available

Tree identification project

Available

Assist in the visitor center

Available
Available
Adoptable Areas:

Adopted by:

Available
Available

Snow Trillium Trail (3 miles)

Available
Available
Available
Available
Adoptable Area:

Adopted by:

Entire Site
Trail work
General cleanup 

Available
Adoptable Areas/Projects:

Adopted by:

Battlefield pathway and garden

Available
Available

Trimming and removing trees in front of the Anderson House

Available
Available

Adoptable Project:

Adopted by:

Civil War living history and school day interpretation
Civil War reenacting groups only

Available
Adoptable Areas/Projects:

Adopted by:

Individual or all trails
minor maintenance and upkeep

Available

Litter pickup in the following areas
Three fishing zones
Campgrounds
Along roads
Shelter areas
Cabin areas
River access

Available
Adoptable Area:

Adopted by:

Bottomland Trail
Maintenance

Available
Adoptable Area:

Adopted by:

Available
Adoptable Areas:

Adopted by:

The trail to the cemetery
currently one half mile long – needs continual trail maintenance

Available

The stream bank and stream
clean out debris, trash, cut down vegetation, distribute silt naturally to cut down island formation

Available
Adoptable Areas/Projects:

Adopted by:

Entire Site
Pi Kappa Alpha, Missouri State University
Available

Hiking Trails
Maintenance

Available

Heritage Vegetable Garden
Planting and care

Available

Annual whitewashing of the Boone home and yard fence  

Available
Adoptable Area:

Adopted by:

Site Gardens
Upkeep site gardens following established plans

Available
Adoptable Projects:

Adopted by:

Exotic Species Eradication
The park could be divided into sections
Removal
Maintenance
Restoration

Available

Trail Monitoring/Maintenance
Adopt a trail or a portion, if a longer trail
Monitor
Assist in repair and maintenance

Available

Trash Removal
Cyclic trash and debris removal by area

Available
Adoptable Projects:

Adopted by:

Cleaning the headstones in the cemetery

Available

Policing and cleaning up the playground area

Available

Policing and cleaning up the Pergola site

Available
Adoptable Areas:

Adopted by:

Thompson River riparian area (River Forks Trail area)
Litter removal
Invasive plant species removal
Conduct habitat surveys – monitor plant species 

Available

Thompson River riparian area (Thompson Trail area)
Litter removal
Invasive plant species removal
Conduct habitat surveys – monitor plant species

Available

Red Bud Trail
Litter removal
Trimming of trees
Keeping park staff informed of larger issues

Available

River Forks Trail
Litter removal
Trimming of trees
Keeping park staff informed of larger issues

Available

Tall Oaks Trail
Litter removal
Trimming of trees
Keeping park staff informed of larger issues

Available

South Thompson Trail
Litter removal
Trimming of trees
Keeping park staff informed of larger issues

Available

North Thompson Trail
Litter removal
Trimming of trees
Keeping park staff informed of larger issues

Available

Thompson Cemetery
Litter removal
Weed-eating/mowing of area
Must be cautious of gravestones

Available

Shelter 3 Picnic Area
Litter removal
Painting/staining of pedestrian bridges

Available

Shelter 1 Picnic Area
Litter removal
Raking/fluffing of playground wood chips

Available

Shelter 2 Picnic Area
Litter removal
Periodic cleaning of enclosed shelter – window washing, refrigerator

Available

Special-Use Area
Litter removal

Available

Prairie Restoration Area (Equestrian Parking lot area)
Invasive species removal

Available
Adoptable Areas/Projects:

Adopted by:

Available
Available
Available

Blackhawk Point Mountain Bike Trail

Available

Lake Lincoln
Trail trim
Pick up litter
Treat exotic species

Available

Shady 80
Litter patrol
Monitor area

Available

Park entrance
Maintain prairie wildflower plantings
Collect seeds
Litter patrol
Remove exotic species

Available

Big Sugar Creek (above the picnic area)
Litter patrol
Remove little rock dams
Water quality monitoring
Remove exotic species 

Available

Prairie and savanna restoration
Collect seeds
Conduct surveys
Control exotic and invasive species

Available
Adoptable Projects:

Adopted by:

Glade restoration
Cut and burn cedar trees and other encroaching plants on several glades

Available
Available

Trail renovation/new trail construction
Restore existing hiking trail
Lay out and construct new trail (pending approval)

Available

Historic building renovation
Repair windows and window screens
Paint woodwork
Stain buildings
Replace damaged siding (need experience with historic carpentry)

Available
Adoptable Areas:

Adopted by:

Strehly House backyard flower beds

 Available
 Available
Adoptable Projects:

Adopted by:

Available

Interpretive programs
Outdoor skills
Fishing clinics
Outdoor cooking
Orienteering
GPS
Leave No Trace
History

Available
Available
Adoptable Areas:

Adopted by:

Braille Trail
maintenance

Available

Engine House Trail
maintenance

Available
Adoptable Areas:

Adopted by:

Available
Available

Kelly Branch Mountain Bike Trail – South Loop

Available

Kelly Branch Mountain Bike Trail – North Loop

Available
Adoptable Area:

Adopted by:

St. Charles County Master Gardeners
Adoptable Areas:

Adopted by:

Available
Invasive species removal (including eastern red cedars) and litter patrol of the following areas:
 

Graham Cave Glades Natural Area – North/National Historic Landmark Area (31 acres)

Available

Graham Cave Blades Natural Area – Middle/National Historic Landmark Area (1 acre)

Available

Graham Cave Glades Natural Area – South Ridge/National Historic Landmark Area (41 acres)

Available

Cave Glade/National Historic Landmark Area (1 acre)

Available

Upper Cave Ridge/National Historic Landmark Area (11 acres)

Available

Indian Glades Trail – East Unit/National Historic Landmark Area (13 acres)

Available

Indian Glades Trail – West Unit (13 acres)

Available

Campground Woods – East Unit (11 acres)

Available

Campground Woods – West Unit (31 acres)

Available

Campground Glade – East (9 acres)

Available

Campground Glade – West (5 acres)

Available

Scorpion Glade (11 acres)

Available

Northeast Corner Glades (6 acres)

Available

Bottomland Forest Restoration (2 acres)

Available
Adoption of one of the following trails would include invasive species removal, litter pickup and trail maintenance.
 
Available
Available
Available
Available
Available

Projects:

 
Available

Exotic/invasive plant removal, including eastern red cedar

Available

Habitat surveys (for qualified groups)
Identify/survey birds, plants, reptiles, amphibians, etc.

Available
Available

Visitor Center Assistance
Staff the visitor contact station, answer phones, greet the public and answer questions about the site, souvenir sales, help maintain bulletin boards, stock brochures

Available

Interpretive Programs (for groups with specialized areas of knowledge and training)
Conduct programs, on topics such as outdoor skills, mycology, botany, astronomy, geology, history, storytelling, experimental archaeology, entomology, birds, Missouri mammals, etc.

Available
Adoptable Area:

Adopted by:

Available
Adoptable Areas/Projects:

Adopted by:

Ha Ha Tonka Visitor Center
Maintain flowerbeds
Clean exhibits
Paint building

Available

Trails
Trail maintenance
Litter pickup
Report downed trees to park staff
Post blazes

Available

Post Office Day-Use Area
Maintain flowerbeds, playground mulch, horseshoe pits
Litter pickup
Light cleanup in the shelter
Paint the three buildings in the area

Available

Exotic Species Control
With park training, would learn to identify exotic vegetation
Use herbicide, hand-pulling and mowing to remove exotic vegetation in the park
Map progress

Available
 

Adoptable Area/Projects:

Adopted by:

Whispering Pines and White Oak Trails
minor maintenance and upkeep

Available

Fire line/prescribed burn preparation

Available

Plant pine trees in field at park entrance

Available
Available

Repair cedar split rail fence

Available
Available

Do habitat surveys (flora and fauna)

Available
Available
Adoptable Area:

Adopted by:

Flower beds and other plantings around the house
Rose garden, oval flowerbed, kitchen herb garden

Available
Adoptable Area:

Adopted by:

Available
Available
Available
Adoptable Area/Projects:

Adopted by:

Available
Available
Available
Available
Available
Available
Available
Available
Available
Available
Available
Available
Available
Available
Available
Adoptable Projects:

Adopted by:

Available
Available
Available
Adoptable Project:

Adopted by:

Weekly litter pickup on historic site properties

Available
Adoptable Areas:

Adopted by:

Trail(s)
Litter patrol
Maintenance/building
Exotic species removal, such as bush honeysuckle

Tom Bruetsch

Picnic area
Litter patrol
Exotic species removal

Available

Campground
Litter patrol
Exotic species removal

Available

Special-use Area
Litter patrol
Exotic species removal

Available

Basketball court area next to campground
Litter patrol
Ensure that basketball court is clean
Ensure that horseshoe pits are clean
Ensure that shuffleboard area is clean
Keep basketball court/shuffleboard area painted

Available

McAdoo Trailhead
Litter patrol
Assist with maintaining trailhead "islands," i.e. planting/weeding/placing mulch
Assist with McAdoo Trail maintenance

Available

Group camps (Bobwhite or Shawnee)
Basic maintenance, such as painting
Cleaning camp buildings' features, such as windows, detail cleaning of buildings

Available

Visitor Center Native Wildflower Garden
Garden upkeep and labeling of current blooming plants

Available

Lakes (Clearfork or Buteo)
Litter patrol
Possibly take small boats on lake to check for trash
Walk shoreline for trash

Available
Adoptable Areas:

Adopted by:

Camp Rising Sun
Trash pickup
Clean out fire rings and tidy up camp fire areas
Wipe down mattresses, barracks, bathrooms, walls, etc.
Clean exhaust fans in the restrooms, and wipe down walls
Sweep sidewalks and roadways free of debris
Rake or blow leaves away from the cabins
Clean up shoreline surrounding waterfront area
Pick up rocks that are in the mowing areas
Clean kitchen area, mop floors, wipe out coolers, etc.
Wipe down cobwebs from the exterior buildings
Re-paint volleyball and 4-square lines
Sand and re-finish recreation hall floor
Clean out fireplaces in recreation hall and staff cabin
Replace dock boards if needed

Available

Camp Clover Point
Trash pickup
Clean out fire rings and tidy up camp fire areas
Wipe down mattresses, barracks, bathrooms, walls, etc.
Clean exhaust fans in the restrooms, and wipe down walls
Sweep sidewalks and roadways free of debris
Rake or blow leaves away from the cabins
Clean up shoreline surrounding waterfront area
Pick up rocks that are in the mowing areas
Clean kitchen area, mop floors, wipe out coolers, etc.
Wipe down cobwebs/wasp nests from the exterior buildings
Re-paint volleyball and basketball court lines
Clean out fireplaces in the recreation hall
Rake and blow leaves from the amphitheater area
Replace dock boards if needed

Available

Camp Pin Oak
Clean and sweep out cabins
Remove graffiti from interior of cabins
Paint exterior of the cabins
Pick up trash along lakeshore area, and throughout the camp
Pick up rocks along the mowed areas in the camp
Clean and mop bathhouses
Sweep out unit lodges and porches on cabins
Sew canvases
Wipe down mattresses
Rake volleyball court sand
Replace dock boards if needed

Available

Campground
Clean fire rings at campsites
Pick up trash in campground and around Public Beach 1 day-use area
Rake/blow leaves
Replace signs and signpost

Available
Adoptable Areas/Projects

Adopted by:

Available

Any Park Trail
Light and general maintenance
Trail marking

Available
Available

A Playground
Clean, check, inspect

Available

Garden or Landscaping Project
Maintain flower beds
Enhance landscaping at the park with native plants

Available

Flora and Fauna Surveys
Bird lists
Plant lists
Insects
Fish sampling

Available

Removal, Monitoring or Education concerning invasive species
One or all – emerald ash borer, feral hogs, yucca plants

Available

Fishing Seminars/Educational Programs

Available

Yard work
Maintaining the yards around the park's rental cabins and office on a routine basis – weed-eating, light mowing

Available
Adoptable Area/Projects:

Adopted by:

Campground
Cleanup and maintenance in the late fall and in early spring
Winterize the campground and showerhouses

Available

Litter and debris cleanup on the lake shore and park grounds

Available

Bottomland forest restoration project

Available
| | |
| --- | --- |
| |   |
| Adoptable Area: | Adopted by: |
| | Available |
Adoptable Area/Projects:

Adopted by:

Natural area
Assist with burns or burn line building
Invasive species control
Seed collection
Seed planting

Available
Available

Interpretive programs that promote natural areas, habitats and recreational opportunities

Available
Available

Remove old fence on park property

Available

Trail maintenance
Replace signs
Clear logs over trails

Available
Adoptable Areas:

Adopted by:

Callison Memorial Bird Sanctuary
Restoration of native wild flowers and other plantings

Available

Wild Flower Trail
Honeysuckle removal and erosion control

Available

Spring Branch Trail
Honeysuckle removal

Available

Limestone Hill Trail
Honeysuckle removal

Available

Charles J Becker Drive
Honeysuckle removal

Available
Adoptable Areas:

Adopted by:

Day-Use Area
Trash pickup
Monitoring for maintenance

Available

Cane Bottom
Trash pickup
Monitoring for maintenance

Available
Adoptable Areas:

Adopted by:

Northwest corner of the property, which includes the dynamite cap storage building, tank form foundations, rail spur with switches, loading platform,

foreman's

yard shed and adjacent foundations and floors and elevated storage building foundation with floor.
Trimming and removal of unwanted dead and invasive vegetation, trees and shrubs
Thinning of overgrowth of cedars, vines and several trees determined by staff
Clean up of some of the unwanted broken up wood and scrap steel and moving to areas as designated
Drag the area and remove broken stone, blocks and bricks
Prepare the area for the planned interpretive trail loop

Available

Approximately 1,000 feet of yellow pipe bollards along the entrance road
Trimming back overgrown trees and vegetation from around the posts and cable
Scrape and repaint the posts and cable with safety yellow paint

Available
Adoptable Projects:

Adopted by:

Available

Stream Cleanup
Could be expanded to include erosion projects, tree planting, fishing lure removal and line from branches

Available
Adoptable Area:

Adopted by:

Trail
Trail maintenance could be done on a yearly basis
Removal of invasive species

Available
Adoptable Areas/Project:

Adopted by:

Al Nilges Garden
April through October
Garden is native species and some annuals
Weeding, trimming and maintenance bi-weekly
Prefer adult groups

Available

Blue Heron Trail
Monthly litter pickup
Weed trimming
Some use of hand tools
Easy trail to maintain – good for a group of young people

Available

Oak Ridge Trail
Glade restoration work
Cedar removal
Possible controlled burns
Tread maintenance
Trimming with hand tools
Litter pickup

Available

Deer Run Trail
Tread work
Litter pickup
Debris removal
Possibly reroute trail and building a new bridge

Available

Tree planting in campground (waiting to see if Onondaga Friends Association gets grant for trees)
Project would be in the fall
Adoptable Area:

Adopted by:

Available
Adoptable Areas:

Adopted by:

Playgrounds
Minor maintenance and upkeep

Available

Trails, individually or all
Minor maintenance
Litter removal
Trim limbs and weed eating
Maintain water bars

Available

Boardwalk
Maintenance on displays
Trimming limbs and weed eating
Tread board maintenance

Available

Archery Range
Maintain butt stops
Maintain water bars
Repair foot bridges
Trim limbs and weed eating

Available

Campground
Assist with the construction of three tent sites
Assist with re-roofing the showerhouse
Routine grounds keeping

Available
| | |
| --- | --- |
| |   |
| Adoptable Areas: | Adopted by: |
| | Available |
| Hermitage Area Boat Launch and Upper Day-use Area | Available |
| | Available |
| Pittsburg Area Boat Launch and Shelter House Area | Available |
Adoptable Areas:

Adopted by:

Picnic Area and Campground

Available
Available
Available
Available

Path of the Sky People Trail

Available
Available
Available
Available
Available
Available
Available

Prairie Unit 27A, 21G, 22E, 22F

Available
Available
Adoptable Areas/Projects:

Adopted by:

Available
Available
Available

River Trail and Deer Leap Trail

Available
Available
Available
Available

Roadsides throughout the park

Available
Available
Available

Exotic and invasive species control

Available
Available
Available

Flower garden maintenance

Available
Available
Adoptable Areas/Projects:

Adopted by:

Park Entrance
Create a native wildflower garden and wildflower border strips along the field edges
Use herbicide to eradicate fescue
Collect seeds in the fall
Plant seeds in the late winter/early spring
Litter control
Landscaping

Available

Day-Use Areas/Spice Bush Trail
Litter control
Trail maintenance
Maintain picnic tables
Remove branches from mowed areas

Available

Woodland/Glade Restoration
Cut, pile and burn cedar trees choking out small glades in the park
Put a fire line in around the Lost Hill Burn Unit
Eradicate exotic plants within this woodland unit

Available

Invasive Exotic Plants
Cut and spray exotic plants in fields adjacent to Montgomery Road (training will be given)

Available
Adoptable Areas:

Adopted by:

Wagon Wheel Trail/Gans Creek Wild Area North

Available

Shooting Star Trail/Gans Creek Wild Area East

Available

Gans Creek Wild Area South

Available

Deer Run Trail/North of Little Bonne Femme Creek

Available
Available

Grassland and Community Trails

Available
Available
Available

Duties with each of the above areas:

Invasive plant control
Ecological restoration (fire line preparation, burns, seed harvest and planting, etc.)
Trail patrol (help visitors, litter pickup, clear windfall, report needs, replace signs)
Trail maintenance and construction
Check on orienteering marker signs
Remove old fence
Monitor natural and cultural resources

Office assistance
Provide a variety of support functions such as answer the phone, take messages, make copies, provide information to the public by phone, email, mail or in person, data entry, care for supplies

Available

Interpretive programs and informal hikes
Provide any combination of interpretive services such as Devil's Icebox Trail, Connor's Cave tour, Weekends on the Boardwalk, programs for school and civic groups, programs offered to the public, staffing a table or activity at special events, updating bulletin boards

Available

Monitor flora and fauna
Choose one or more categories (butterflies, dragonflies, frogs, plants, birds, amphibians, small mammals, etc.) and conduct surveys according to established protocols. This involves having the knowledge to identify correctly. Partial training is provided for butterflies, dragonflies and frogs and toads.

 Available
Adoptable Areas:

Adopted by:

Area South of Interstate 44
South Outer Road
Road shoulders
South Loop Trail

Available

Trails north of Interstate 44
Inner Loop Trail
Outer Loop Trail
W Trail

Available
Adoptable Areas:

Adopted by:

Pike Run Trail – north loop (6 miles)

Available

Pike Run Trail – south loop (5 miles)

Available

Mooner's Hollow Trail (2.5 miles)

Available

Duties on the above trails:

Light removal of fallen trees
Weed control
Tread repair
Signage

Big River
Clean up river banks

Available

Special-Use Area
Supplying firewood
Building wood racks
Maintaining tables

Available

Roadways (8 miles)
Litter control

Available
Adoptable Areas/Projects:

Adopted by:

Available
Available
Available
Available
Available
Available
Available
Available
Available
Available

Radio Control Flying Field

Available
Available
Available
Available
Available
Available
Available

General maintenance/repairs

Available
Available
Available
Available
Available
Adoptable Projects:

Adopted by:

Stream cleanup and honeysuckle removal

Available
Adoptable Areas:

Adopted by:

Hartley Boat Launch
Lakeshore clean up
Litter patrol

Available

Umber Ridge Trail
Litter patrol
Trail Maintenance

Available

Marina Boat Launch
Litter patrol
Lakeshore clean up

Available

Nyblad Trail
Litter patrol
Trail Maintenance

Available

Beach
Litter patrol
Lakeshore clean up

Available
Adoptable Area/Projects:

Adopted by:

White River Valley Trail
Ongoing maintenance/tread work
Litter pickup

Available

Litter Patrol and General Maintenance
This includes public use areas, campground and Table Rock Lakeshore Trail
Pick up litter and clean out ditches and culverts

Available
Adoptable Areas/Projects:

Adopted by:

Available
Available
Available
Available
Available
Available
Available
Adoptable Area:

Adopted by:

Trail System
Clearing trails
Tread repair
Bridge maintenance
Litter removal
Dead fall removal

Available
Adoptable Area:

Adopted by:

Entire site
Big mound - clear woody brush
Maintain new interpretive structures – cleaning, painting, etc.

Available
Adoptable Areas/Projects

Adopted by:

Picnic Areas – one or all

Available
Available
Available
Available
Available
Available
Available

Trail building/maintenance

Available
Available

Interpretive programs (with appropriate training)

Available
Available
Adoptable Project:

Adopted by:

Available
Adoptable Areas/Projects:

Adopted by:

Day-Use Picnic Shelter Area

Available
Available
Available
Available
Available
Available

Western Wall Flower Trail

Available
Available

Prairie Grass example fields around office

Available

Campgrounds (all six or a portion)

Available

Spring cleanup of the campgrounds and other areas

Available
Available
Available

Fall leaf blowing and general cleaning

Available

Assist with interpretive projects

Available
Adoptable Projects:

Adopted by:

Available
Available
Available
Available
Available

Loading recycled materials              

Available
Available

Spring cleanup of buildings and grounds

Available
Available
Available
Available
Available
Available

Vehicle maintenance (cleaning, checking fluids, etc.) 

Available
Adoptable Projects:

Adopted by:

Keep leaves cleaned up out of the street curb area around the buildings in town

Available

Clean and cut back areas around the Creole House

Available

Keep area around Kern clean

Available
Adoptable Area/Projects:

Adopted by:

Trails
Maintain trouble spots

Available

Assist at special event programs

Available

Do research for a temporary exhibit

Available
Available
Adoptable Project:

Adopted by:

Available
Adoptable Areas/Projects:

Adopted by:

Trails  - adopt one or all four
Provide spring, summer and fall trash pickups
Branch trimming (nonmotorized)
General inspection for problems (hazard trees, erosion, etc.)
Spread gravel or wood chips if funding is available for the materials

Available

Spring cleanup (mid-March to mid-April)

Available

Pull garlic mustard at Trice-Dedman Memorial Woods (must be coordinated with The Nature Conservancy) during late March early April

Available

Assist with Kids Fishing Day (untangle lines and bait hooks ) -10 volunteers maximum

Available
Adoptable Area/Project:

Adopted by:

Available

Interpretation
Research and promote the CCC heritage, Native American heritage and Korean War Memorial

Available
Adoptable Areas/Projects:

Adopted by:

Campground
Pick up litter
Clean fire rings

Available

Lake Shore
Pick up litter

Available

Equestrian Trail
General upkeep

Available

Special-use Area
General upkeep
Campsite improvements

Available

Watkins House Yard Fence
General maintenance and repair
Whitewash

Available
Available

Bicycle Trail
Pick up litter 

Available

Build replacement benches for the amphitheater

Available

Assist with wedding heirloom garden

Available

Assist with the removal of invasive species

Available

Paint exterior trim on the school

Available

Build new repro privies for church and school yards

Available

Paint window sashes and glaze window panes in the mill

Available

Replace board/batten exterior siding on garden shed

Available

Assist with installing borders for the flower and vegetable beds in the heirloom garden

Available
Adoptable Areas/Project:

Adopted by:

Trail
Maintenance
Improvement projects
Litter pickup

Available

Overlook
Litter pickup
Brush clearing
Graffiti removal
Staining when needed

Available

Park Entrance
Remove old and rotted gates - replace with new and upgraded design
Maintain the new park entrance feature

Available

Heirloom Garden
Plant and maintain a small garden of heirloom plants by the historic tobacco barn

Available

Park Office
Paint railings and building as needed
Keep grounds litter free
Plant and maintain flowers

Available

Park Road
Litter pickup
Brush clearing along the roadside
Maintain Signs
Stripe parking lots

Available

Picnic Area
Litter pickup
Replace wooden picnic pads as needed
Repair picnic tables as needed
Brush removal

Available

Park Gates
Replace rotten boards
Paint as needed

Available

Any Park Building
Paint and assist with repairs as needed

Available

Assist with interpretive programs for school and civic groups

Available