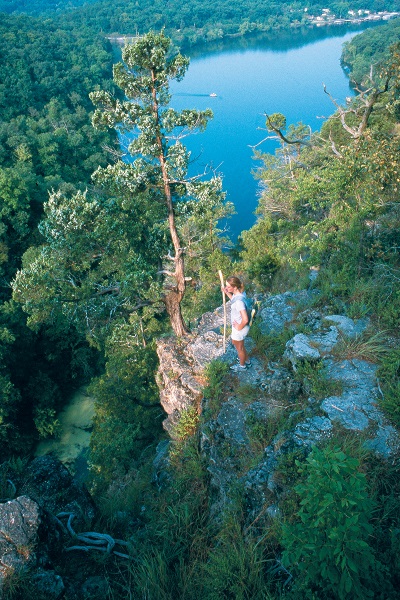 Anyone eager to explore the state's natural beauty on foot can rough it as much or as little as they like. More than a century after John Muir wrote of his urge to "throw a loaf of bread and a pound of tea in an old sack and jump over the back fence," the need to get outside can be satisfied with more than 1,000 miles of trail in Missouri state parks. These trails wind through rolling prairie grass and densely wooded forests. Some end at a campground, others atop craggy Ozark peaks. But whether you're seeking a break from the heat in a cool forest or looking to add a few more species to your bird-watching resume, Missouri's state parks offer unparalleled opportunities to enjoy the great outdoors. 
You might spend an afternoon winding your way through the state's largest tallgrass prairie at Prairie State Park in southwest Missouri. While at the park, you may see an American bison or add some new birds to your list by spotting an eastern meadowlark, dickcissel or Bell's vireo.
 At Cuivre River State Park in northeast Missouri, a more rugged experience awaits. Backpackers will find miles of trails curving through tall prairie grasses, woodlands and Big Sugar Creek – one of the finest undisturbed streams in the area. Offering more than 6,000 acres of camping, fishing and trails, Cuivre River State Park is perfect for hikers looking to devote a few days to exploring Missouri's natural treasures.
Scour Trail at Johnson's Shut-Ins State Park gives visitors a chance to hike through 1.4 billion years of geologic history.
Whether you're after a total escape from civilization or a gentle day hike, Missouri state parks has something for every hiker.
Trail maps for every trail in Missouri State Parks are available by accessing the hiking symbols on each facility's page or by clicking on the "Park Trails" link in the Park File on the brown bar on the right side of the facility's page. For more information on trails in Missouri State Parks, please access our interactive trail map by clicking the icon below.