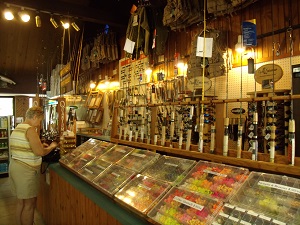 Get all of your fishing supplies, including hand tied flies made by local craftsmen, at the park store inside the Dorman L. Steelman Lodge. A large variety of souvenirs, fishing waders, apparel, gifts, groceries, milk, charcoal, camping supplies, cast iron cookware and other essentials will help make your stay in the park more comfortable. The lodge is a smoke-free facility.
Wireless Internet (Wi-Fi) connections are now available at no charge in the Dorman L. Steelman Lodge. Wi-Fi has been added to meet the requests of state park users to stay connected. This free service is popular with regular visitors as well as those coming to the park for meetings or conferences. Guests must provide their own computers.
The cabins, motel, dining lodge, store and snack bar are operated by Montauk Resorts, LLC, a Forever Resorts property.  John Johnston, general manager, and his friendly team are ready to make your visit to Montauk State Park an enjoyable experience.  For more information about the concession facilities, please visit their website or call 573-548-2434.
Park Hours
Weather