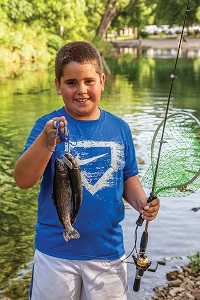 Attending one of our free interpretive programs will help you learn more about Roaring River State Park. Programs provide interesting messages and hands-on activities about the park's history and natural resources. Programs are held most days during the summer season and on weekends during spring and fall seasons. Many are held in the scenic setting of the amphitheater. Guided nature hikes focus on specific topics of interest like native wildflowers, birds or caves. For information about upcoming programs, call the Ozark Chinquapin Nature Center at 417-847-3742.
Kids Fishing Day
Roaring River State Park has a reputation as a family-friendly park. This is very evident on many busy weekends when the park is filled with families coming together to make new memories. For many, this tradition starts on the biannual Kids Fishing Day, when kids 15 years and younger can fish free and are offered fishing instruction. More than 1,000 young anglers regularly attend these special fishing days and experience the thrill of catching their first fish.
Programs for Groups
Groups that are looking for a guided experience or a welcome chat before exploring the park are encouraged to contact the nature center. Interpreters may be available to provide a program to suit your group's needs. Popular program topics include: park history, snakes, ecological preservation, wildflowers and bald eagles. Call the nature center at 417-847-3742 for more information. 
Explorer School Program
Missouri schools can participate in the Explorer Program free of charge. The Explorer Program allows students to learn more about Roaring River State Park by enjoying interpretive programs both at school and at the park and through independent study. Students who fulfill all requirements will receive a free badge!
Here is how the program works:
January through March
A naturalist will visit your school to conduct a nature presentation.
Teachers will have the students write a report on a native Missouri plant or animal.
Students will prepare a picture of that plant or animal made of natural substances no larger than 11 by 14 inches. The best picture from each class will be eligible for display at the Ozark Chinquapin Nature Center! 
April through May
To learn more about the program or to schedule your Explorer Program activities, call the nature center at 417-847-3742 or email anna.skalicky@dnr.mo.gov.
School Field Trips
Roaring River is a very popular park for schools to take field trips. What is typically requested is a tour of the fish hatchery, a short hike and a visit to the nature center. Tours are usually given from April 1 until schools get out in May, and then again from Sept. 1 through Oct. 31. A rough estimate of time would be 45 minutes for each activity, or three hours if you did all three, including travel time. Field trip reservations may be made by calling 417-847-3742 or emailing anna.skalicky@dnr.mo.gov.
Wildflower Workshop
These workshops are timed for an educational study of native wildflowers in various habitats found throughout the park at different times each spring. Interesting folklore and medicinal purposes as well as structure of the flower will be discussed. Wildflower lovers will be identifying various wildflowers found in their habitat by driving and hiking around the park. Wear sturdy shoes and bring your camera for a time of fun and education.
Reservations may be made by calling 417-847-3742 or by emailing anna.skalicky@dnr.mo.gov.
Wild Area Hike
Come and enjoy the cool air and crisp colors of fall on a guided hike. Join an interpreter for a 5-mile hike into the 2,075-acre Roaring River Hills Wild Area that will include visits to the Civilian Conservation Corps lookout tower, the state champion downy serviceberry tree and the Roaring River Cove-Hardwood Natural Area. Sturdy shoes or boots should be worn, as you will be hiking off the main trail. Also bring along a lunch, daypack, canteen, camera and binoculars. Wear clothing that is suitable for the weather. 
Reservations may be made by calling 417-847-3742 or by emailing anna.skalicky@dnr.mo.gov.
Bald Eagle Viewing
Take advantage of the opportunity to view bald eagles as they come in to roost at Roaring River State Park. The park hosts eagle-viewing events throughout the winter. Join a park naturalist at the park's nature center for a short video on eagles. Following the video, visitors will head outside to watch as the eagles fly into the park to roost for the evening. A spotting scope and a few binoculars will be available, but guests are encouraged to bring their own along with their cameras. Dress appropriately for the weather.
Reservations may be made by calling 417-847-3742 or by emailing anna.skalicky@dnr.mo.gov.