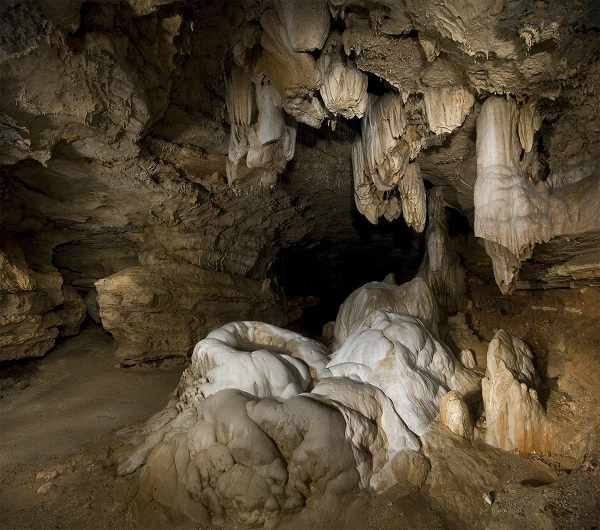 Visit Ozark Caverns in Lake of the Ozarks State Park and discover what lies beneath the surface!
Caves are common geologic features in areas like the Ozarks, which is underlain by thick layers of soluble carbonate rocks such as limestone and dolomite. Water, seeping through subterranean cracks in these rock formations, begins to enlarge some of the fractures. As the dissolving action of the water continues, the cracks eventually become large, water-filled conduits that form parts of extensive underground drainage systems.
As these water-filled systems gradually are drained by deepening surface valleys, they become the air-filled passageways we know as caves.
A walk through Ozark Caverns is a journey through one of these large, drained conduits. It is a walk into an environment where geologic processes can proceed unhindered by many of the erratic, erosive forces that shape the surface landscape. In the protected cave environment, dripping and seeping water can redeposit carbonate materials in the form of soda straws, helictites, stalagmites and a host of other geologic wonders that can be seen in Ozark Caverns.
Angel Showers, an unusual cave phenomenon, is a featured part of the Ozark Caverns tour. The never-ending shower of water seems to come out of the solid ceiling of rock.
The protected cave environment also allows visitors to contemplate the claw marks left in the sediment fills by animals that sought shelter here thousand of years ago.
Four species of salamanders, four species of bats, and 16 species of invertebrates live in Ozark Caverns. Four of the invertebrate species live exclusively in caves, never venturing out of the protected environment. Ozark Caverns is home to many small, secretive cave animals, such as the blind grotto salamander, which sometimes can be seen on cave tours.
There is also much to see on the surface. Coakley Hollow Trail, which is a 1-mile, self-guiding interpretive trail, begins and ends at the caverns parking lot. This trail crosses a variety of habitats including a glade, fen and an Ozark spring branch. It is also a good place to see spring wildflowers. Trail booklets are available at the visitor center. There are ample picnic sites on the grounds.
Tours
This interpretive tour lasts approximately one hour and is a half-mile round trip. Topics discussed include general cave development, speleothem formation, cave life or other topics visitors wish to discuss with the guide. Appropriate for all ages.
The cave is 56 degrees Fahrenheit. A light jacket is recommended.
Fees
| | | |
| --- | --- | --- |
|   | Regular Admission | Group Rates * |
| Adult | $10 | $6 |
| Teenager (ages 13-17) | $8 | $6 |
| Child (ages 6-12) | $6 | $4 |
| Child (under age 6) | Free | Free |
Fees do not include tax. Qualified tax-exempt organizations must provide a copy of a Missouri tax exempt certificate at the time of payment.
Group rates are available for educational groups (schools, Scout troops, etc.). Groups must schedule a tour at least two weeks in advance (subject to availability).
For more information, call 573-346-2500.
Reservations
Tours of Ozark Caverns can be reserved online on our reservation website or by visiting the park. For more information, call 573-346-2500.