Park Trails
Umber Ridge Trail
Bicycling/Mountain Biking

Hiking
Trail Rating: Moderate
Umber Ridge Trail has a natural surface with a gentle terrain and is popular with mountain bikers. The area is typical of the western Ozarks where the prairie meets the woodlands. The trail travels along a west-facing slope offering several vistas of Stockton Lake before turning and traveling along open white oak woodlands on an east-facing slope. The trail travels through open woodlands including large oaks and hickory trees. Springtime hikers may see several different types of wildflowers including trillium, spring beauty, coral root orchid and wild hyacinth. Autumn hikers can witness the beauty of the Ozark woodlands as the leaves change color and begin to fall. Wildlife can be observed all year but some of the best times to catch a glimpse of a white-tailed deer or a bald eagle are during the winter when the woods are open and the leaves are gone.
You may experience:
Natural surface, dirt, mud, gravel, shifting rocks, slippery surface, etc.
Rocks, roots and/or downed vegetation on trail        
Occasional water over trail
Road/highway crossing
| Length | Estimated Hiking Time | Type | Blazes | Trailhead |
| --- | --- | --- | --- | --- |
| 1.65 Miles | 1 hour, 15 minutes | Loop | Yellow | At the Gordon Cemetery parking area at the beginning of the beach road |
Lakeview Trail
Bicycling/Mountain Biking

Hiking
Trail Rating: Moderate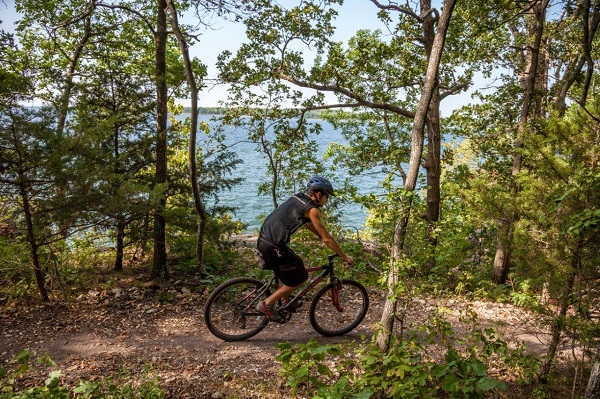 Lakeview Trail follows a contour above the shores of Stockton Lake and provides spectacular views of the lake. The trail travels through young woodlands as well as areas with more mature oak and hickory trees. The trail passes the state park beach, which is a good place to take a quick break. Continuing on, the trail joins Umber Ridge Trail and passes near the Gordon Cemetery. After the trail crosses Highway 215, it reaches a bluff along the Big Sac River arm of the lake. During winter months, this is a great area for viewing bald eagles and other waterfowl. The trail passes the Hartley Boat Launch area before crossing Highway 215 and returning to the main trailhead. White connector 1 dissects the loop, providing trail users with shorter alternatives.
| Length | Estimated Hiking Time | Type | Blazes | Trailhead |
| --- | --- | --- | --- | --- |
| 8 miles | 6 hours | Loop | Orange | On County Road 2000 (the campground/marina road) |