Park Trails
Locust Creek Riparian Trail
Trail Rating: Moderate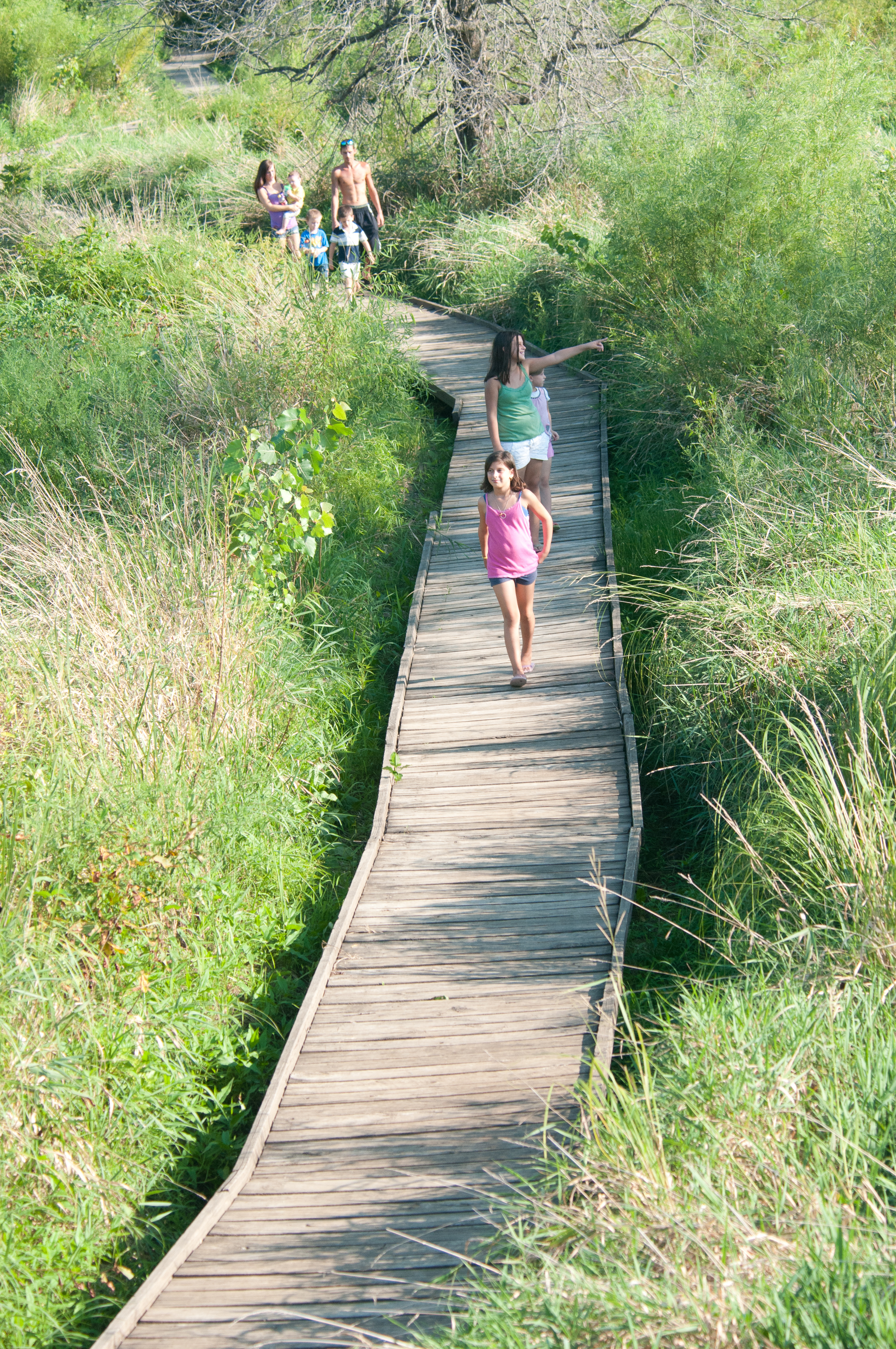 Riparian refers to the land along rivers and streams and this trail follows the west bank of Locust Creek from the iron bridge to the northeast portion of Fountain Grove Conservation Area. It uses the boardwalk's first .80 miles before branching off and paralleling Locust Creek before it terminates on Fountain Grove Conservation Area.
Locust Creek Riparian Trail is unique to north Missouri and it follows a meandering prairie stream with its associated oxbows and wetlands under a tall canopy of bottomland forest of oak, hickory, cottonwood, sycamore and silver maple in Locust Creek Natural Area. The type and amount of vegetation in this corridor have great influence on the water quality of the stream. Human settlement along rivers has replaced native vegetation with agricultural, residential, commercial and industrial developments, often to the detriment of the stream.
Since this trail is not a loop trail, hikers will need to plan for a pick-up at the south end, or drop a vehicle there first, similar to many canoe trips, to hike its full course. Short hikes are also encouraged by hiking in and out from the same location.
Due to the potential of flooding along parts of this trail, users are encouraged to contact the park office or check the park's web page for notices. 
Two trailheads also are located in Fountain Grove Conservation Area. One is at the parking area on the north end of the conservation area, which can be reached via Belt Road. The second is located off the auto tour route on the east side of the area, accessed on Crown Drive. About one mile of this trail is located on Missouri Department of Conservation property. Special rules, regulations and access may apply on Missouri Department of Conservation property.
The trail is open to backpacking/overnight camping. The group must be less than seven people and camp 100 feet away from the trail, one-fourth mile away from the trailhead or access point and 200 feet away from a lake or stream. 
You may experience:
Natural surface, dirt, mud, gravel, shifting rocks, slippery surface, etc.
Rocks, roots and/or downed vegetation on trail        
Low hanging vegetation
Bluffs or drop-offs next to trail
Bridges and/or structural crossings
Water/stream crossings without bridges
Occasional water over trail
Road/highway crossing
| Length | Estimated Hiking Time | Type | Blazes | Trailhead |
| --- | --- | --- | --- | --- |
| 6 Miles | 4 hours, 30 minutes, one way | Linear | Blue | At approximately the halfway point of Boardwalk Trail |