Park Trails
Whispering Pines Trail
Trail Rating: Rugged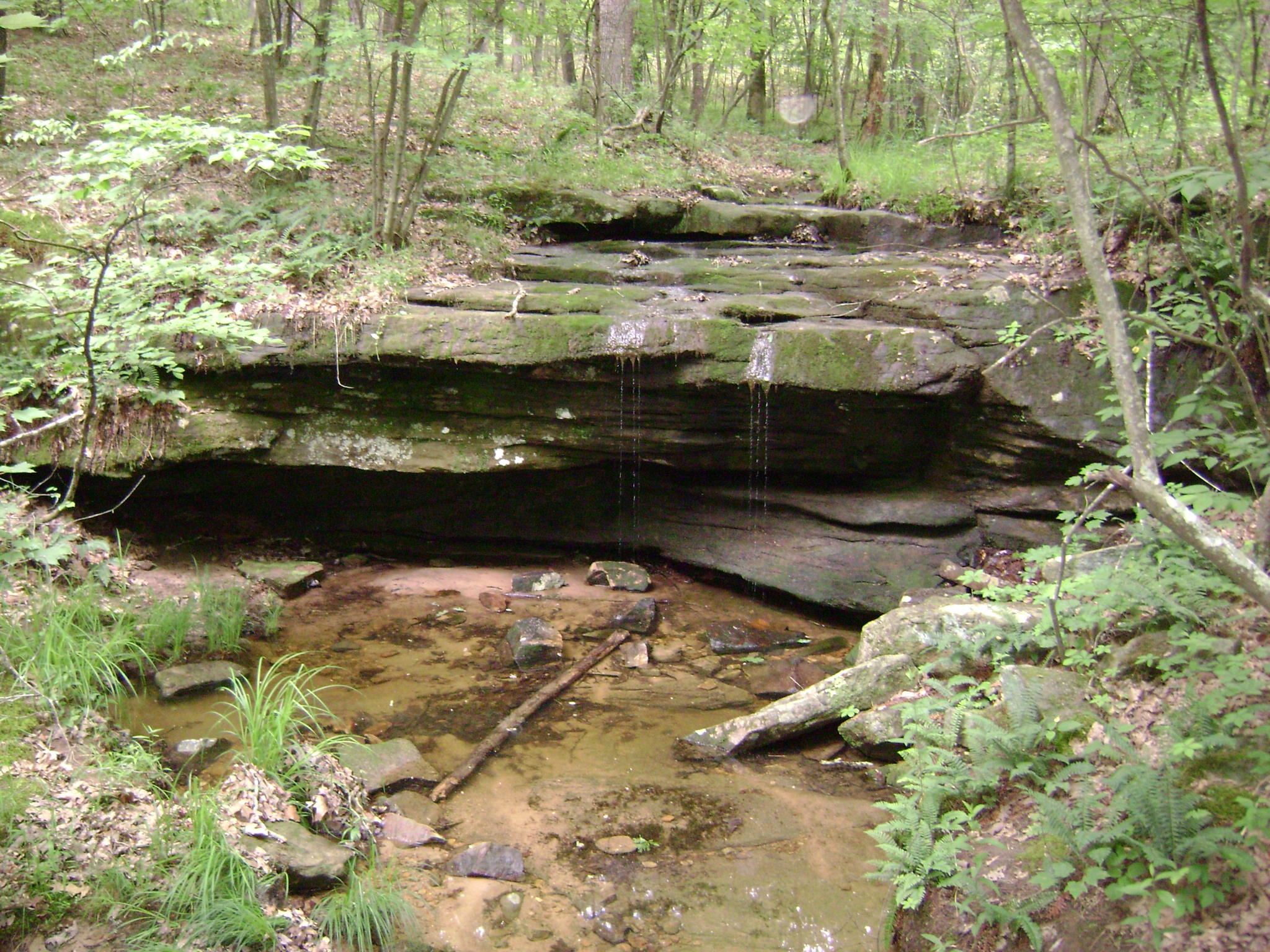 Whispering Pine Trail was constructed in 1976 and 1977 with the help of the Ozark Chapter of the Sierra Club. This effort has resulted in what is generally considered to be one of the best hiking and backpacking trails in the state.
The trail provides the opportunity for day hikes of varying lengths or a longer backpacking trip. It meanders through a beautiful mixed hardwood and pine forest, which is home to a variety of animals such as bobcat and wild turkey. Extensive exposures of sandstone and granite can be explored along the banks of Pickle Creek and the River Aux Vases. Mosses and ferns create a luxurious effect on the moist overhangs that occur along the two streams. A hike on Whispering Pine Trail is especially enjoyable in the spring and winter, but a summer-day hike ending with a cool dip in Pickle Creek or a backpacking trip on a crisp, fall weekend can be equally rewarding.
Water is not available at the trailhead, but can be obtained at the park office or the campground. Water from Pickle Creek or the River Aux Vases may be used for drinking while on the trail, but it should always be treated before consumption. The trail is signed in a counterclockwise direction with colored arrows. Red arrows identify the north loop; blue arrows mark the south loop; and additional markers are used to mark spur trails leading to the camp areas. The entire trail should take no more than 9 hours and 45 minutes to complete although more experienced hikers may complete it in a shorter time.
Hikers can also access White Oaks Trail by using either White Connector 1 or 2.  In addition, if hikers wish to stay on Whispering Pines Trails but would like to shorten their hike, White Connector 3 is available for this purpose.
Whispering Pines Trail and all other trails at Hawn State Park are for hiking and backpacking only.  Horses and mountain bikes are not allowed on any of the trails at the park. 
If you are interested in volunteering to help maintain trails at Hawn State Park, you may call the Ozark Chapter of the Sierra Club at 636-296-8975.
You may experience:
Natural surface, dirt, mud, gravel, shifting rocks, slippery surface, etc.
Rocks, roots and/or downed vegetation on trail        
Low hanging vegetation
Wood or stone steps
Steep grades and inclines more than 10 percent
Bluffs or drop-offs next to trail
Bridges and/or structural crossings
Water/stream crossings without bridges
North Loop
Length
Estimated Hiking Time
Type
Blazes
Trailhead
6 Miles
6 hours
Loop
Red
At the wooden footbridge beyond the parking area near the picnic area parking area
South Loop
Length
Estimated Hiking Time
Type
Blazes
Trailhead
3.75 Miles
3 hours, 45 minutes
Loop
Blue
At the wooden footbridge beyond the parking area near the picnic area parking area