Park Trails
Sandstone Canyon Trail
Trail Rating: Moderate
The Sandstone Canyon Trail lets hikers explore the eastern half of the park and its many natural features - from lush mesic bottoms to dry uplands. The trail follows a ridge top along the upper edge of a sandstone canyon, one of the features unique to the LaBarque Creek Watershed. The trail also leads hikers through dry woodlands containing gnarly chinkapin oak trees. Hikers can experience a dramatic elevation change of 270 feet from 550 feet in the valley to 820 feet near the hilltops. White connector 1, which is .2 miles long, is approximately half way through the hike and can be taken to shorten the trip. The first .60 mile of the trail is paved; the paved path ends at a shelter with picnic tables.
You may experience:
Natural surface – dirt, mud, gravel, shifting rocks, slippery surface, etc.
Rocks, roots and/or downed vegetation on trail
Bluffs or drop-offs next to trail
| Length | Estimated Hiking Time | Type | Blazes | Trailhead |
| --- | --- | --- | --- | --- |
| 4 miles | 3 hours | Loop | Red | Southeast of residence in day-use area |
LaBarque Hills Trail
Trail Rating: Moderate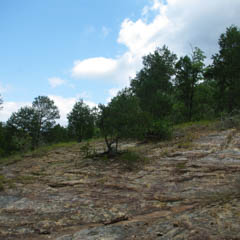 For those wanting to experience the western half of the park, the LaBarque Hills Trail takes hikers along the backbone of the park's western ridge. It navigates through sandstone woodlands in the lower elevation with dolomite woodlands above. Evidence in the bedrock underneath the trail can be found on the surface as these rock formations expose themselves in many outcroppings through this area. A .01 mile spur off the northern portion of the trail leads to a bench that rests at the peak of a hill.  
You may experience:
Natural surface – dirt, mud, gravel, shifting rocks, slippery surface, etc.
Rocks, roots and/or downed vegetation on trail
Bluffs or drop-offs next to trail
| Length | Estimated Hiking Time | Type | Blazes | Trailhead |
| --- | --- | --- | --- | --- |
| 2.40 miles | 1 hour, 40 minutes | Loop | Blue | South of residence in day-use area |