Park Trails
Blackhawk Point Trail
Bicycling/Mountain Biking

Hiking
Trail Rating: Rugged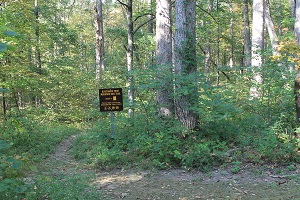 Blackhawk Point Trail begins at the Civilian Conservation Corps stone shelter and runs down to the Geode Creek valley before climbing up to the top of Frenchman's Bluff.  The trail follows Cheatham Road for 1.75 miles and then heads back into the woods towards Blackhawk Point on Frenchman's Bluff. This point offers a remote and spectacular view of the Cuivre River valley. The trail follows along Frenchman's Bluff for about three miles, offering scenic views along the entire route. It then returns to the Geode Creek valley and runs through a portion of Hamilton Hollow before returning to the shelter. Portions of this trail are open to equestrian use. Mountain bikers should yield the right of way to horses and hikers.
This trail follows a route which consists of portions of several existing trails. Please pay attention to the yellow blazes that identify this trail. Mountain bikes are only allowed on this section of trail.
You may experience:
Natural surface, dirt, mud, gravel, shifting rocks, slippery surface, etc.
Rocks, roots and/or downed vegetation on trail           
Steep grades and inclines more than 10 percent
Bluffs or drop-offs next to trail
Water/stream crossings without bridges
Road/highway crossing
| Length | Estimated Hiking Time | Type | Blazes | Trailhead |
| --- | --- | --- | --- | --- |
| 5.75 Miles | 5 hours, 45 minutes | Loop | Yellow | At the Civilian Conservation Corps stone shelter parking area just beyond the playground |
Old Schoolhouse Trail
Bicycling/Mountain Biking

Hiking
Trail Rating: Moderate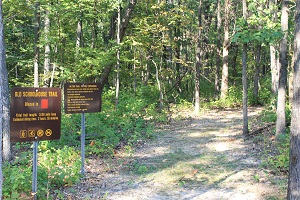 Old Schoolhouse Trail receives its name from the foundation of an early 1900s one-room schoolhouse that can be seen along the trail. The loop trail, which is suitable for mountain biking, provides a spectacular view of Lake Lincoln as it shares a path with Lakeside Trail. Along the way, the trail crosses several park roads, makes use of an old service road and passes through Camp Cuivre. 
| Length | Estimated Hiking Time | Type | Blazes | Trailhead |
| --- | --- | --- | --- | --- |
| 3.85 Miles | 2 hours, 55 minutes | Loop | Red | On Hardy Road between Highway 147 and Walker Road |