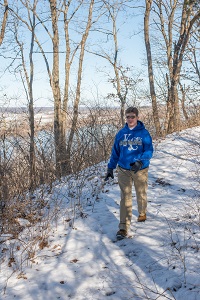 Does the cold weather have you feeling cooped up? If so, we have some excuses to get out of the house and enjoy Missouri's state parks and historic sites – even in the winter! So, get off the couch and check out some of these entertainment options:
Tour a historic site. For those convinced they don't want to venture outside, Missouri State Parks manages 35 state historic sites, 16 of which offer tours. Learn about the Civil War, a Missouri artist and musician or the state's German or French heritage. Make sure to check the historic site's winter hours before you go!
Roam around a visitor center or museum. Several state historic sites have visitor centers or museums where you can learn all kinds of things you didn't know about Missouri's history. Spend a cold, lazy afternoon looking at exhibits and reading about Mark Twain, Missouri's lead mining industry or mastodons that once roamed our state!
Take a hike! Bundle up and head outdoors! You may be surprised by how refreshing a winter hike can be! Advantages to hiking in the winter include open views, which are usually blocked by foliage, and the tranquility of the trails during winter! You usually don't have to fight crowds at this time of year! This is also a great time to visit parks along rivers or lakes to view bald eagles.
Attend a special event. See a list of special events being offered during January and February below. They range from lectures to rotating exhibits to bison hikes.
Winter Special Events:
| | | | |
| --- | --- | --- | --- |
| Jan. 4-31 | "Watercolors of the Valley" Exhibit | Battle of Pilot Knob State Historic Site, Pilot Knob | 10 a.m. - 4 p.m. |
| Jan. 8 | Landing After Hours: Just Around the Pointe of Courage and Determination | Missouri State Museum, Jefferson City | 7 p.m. - 8:30 p.m. |
| Jan. 17 | Themed State Capitol Tour: Background, Foreground, and Figures | Missouri State Museum, Jefferson City | 3 p.m. - 4 p.m. |
| Jan. 18 | Bald Eagle Viewing | Roaring River State Park | 3 p.m. - 4:30 p.m. |
| Jan. 18 | Basket Weaving Class: Remote Tote Basket | First Missouri State Capitol State Historic Site, St. Charles | 10 a.m. - 3 p.m. |
| Jan. 22 | Washington State Park Job Fair | Washington State Park, De Soto | 9 a.m. - Noon |
| Jan. 30 | Cuivre River Volunteer Recruitment Meeting | Cuivre River State Park, Troy | 6 p.m. - 7 p.m. |
| Feb. 1 | Bison Hike | Prairie State Park, Mindenmines | 1 p.m. - 3 p.m. |
| Feb. | First Saturday Lecture | Arrow Rock State Historic Site, Arrow Rock | 10 a.m. - 11 a.m. |
| Feb. 1 | The Secrets of the Chocolate Maker | Felix Vallé House State Historic Site, Ste. Genevieve | 2 p.m. - 3 p.m. |
| Feb. 1-28 | "Arcadia Valley" Photographic Essay Display | Battle of Pilot Knob State Historic Site, Pilot Knob | 10 a.m. - 4 p.m. |
| Feb. 5 | Landing After Hours: Lincoln University Civilian Private Program | Missouri State Museum, Jefferson City | 7 p.m. - 8 p.m. |
| Feb. 6 | Toddler Storytime | Knob Noster State Park, Knob Noster | 10 a.m. - 11 a.m. |
| Feb. 8 | CCC 1743 Celebration Open House | Washington State Park, De Soto | 10 a.m. - 2 p.m. |
| Feb. 8 | Tweets for Sweets | Dr. Edmund A. Babler Memorial State Park, Wildwood | 10 a.m. - Noon |
| Feb. 13 | Toddler Storytime | Knob Noster State Park, Knob Noster | 10 a.m. - 11 a.m. |
| Feb. 14-17 | Great Backyard Bird Count | Ha Ha Tonka State Park, Camdenton | 8 a.m. - 3 p.m. |
| Feb. 15 | Basket Weaving Class: Square Cake Basket | First Missouri State Capitol State Historic Site, St. Charles | 10 a.m. - 3 p.m. |
| Feb. 15 | Great Backyard Bird Count | Bennett Spring State Park, Lebanon | 8 a.m. - 4 p.m. |
| Feb. 15 | Hug a Tree Hike | Big Sugar Creek State Park, Pineville | 10 a.m. - 1 p.m. |
| Feb. 21 | Themed State Capitol Tour: Four Lunettes | Missouri State Museum, Jefferson City | 3 p.m. - 4 p.m. |
| Feb. 22 | Colton Kiso: "Forged in Fire" Presentation | Arrow Rock State Historic Site, Arrow Rock | 10 a.m. - 11 a.m. |
| Feb. 22 | Nature Bingo | Prairie State Park, Mindenmines | 10 a.m. - 4 p.m. |
| Feb. 25 | Buffalo Soldiers: From Slave to Soldier | Battle of Lexington State Historic Site, Lexington | 6 p.m. - 7 p.m. |
| Feb. 27 | Toddler Storytime | Knob Noster State Park, Knob Noster | 10 a.m. - 11 a.m. |
| Feb. 29 | Open House: Shared History of Germans and African Americans in Missouri | Deutschheim State Historic Site, Hermann | 10 a.m. - 2 p.m. |
| Feb. 29 | Leap Year Hike | Crowder State Park, Trenton | 1 p.m. - 5 p.m. |