For your next meeting or special event, consider adding a touch of music and history to the setting. The New Rosebud Cafe, a part of Scott Joplin House State Historic Site, can be rented for meetings, special events or an evening of entertainment.
Operated by the Missouri Department of Natural Resources, the New Rosebud Cafe was constructed to serve as a performance venue for Scott Joplin House State Historic Site, which interprets the life of renowned ragtime composer Scott Joplin. The two-story brick building was reconstructed to represent a turn-of-the-century establishment in St. Louis. You may rent the Entertainer Music Hall (first floor) or the Cascades Music Room (second floor). The facility is wheelchair accessible.
Whether you want a brown bag lunch or a catered event, staff from the New Rosebud Cafe can assist you with the arrangements. Rooms may be used for catered or non-catered (carry-in) functions. For added enjoyment of your event, consider hiring a ragtime piano player to supply background music to your party. A list of entertainers and caterers that have used the facility in the past is available.
When rooms are available during business hours, schools are permitted to use the cafe for eating school lunches at no extra charge. Two weeks notice is required. 
Rooms
The Entertainer Music Hall
(first floor)
Includes bar, piano, tables and chairs. Seating capacity is 60 persons. The entire New Rosebud Cafe and/or the Entertainer Music Hall (first floor) can be rented beginning at 5 p.m. Monday through Saturday and beginning at 3 p.m. on Sunday.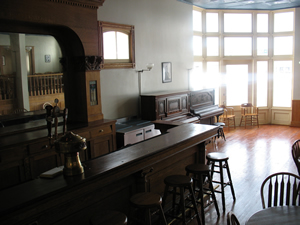 The Cascades Music Room
(second floor)
Includes piano and large open space for seating. Seating capacity is 40 persons. Because the second floor is not used for tours, the Cascades Music Room can be rented for any time after 9 a.m. during the week and on Saturday beginning at 9 a.m. and Sunday at 12 noon. 
Rental Rates for the New Rosebud Cafe
Whether you are planning a meeting, evening or afternoon of entertainment, wedding or reunion, schedule your event at the New Rosebud Cafe. Space is available to accommodate most functions.
The cost for performers, bartenders, caterers and security is not covered as part of the regular operation and is not a part of the rental fee. 
The Entertainer Music Hall (first floor only)
Seating Capacity: 60
Rental Rate: $550*
The Cascades Music Room (second floor only)
Seating Capacity: 40
Rental Rate: $450*
*A $200 cleaning/damage deposit per floor is included in the price.
Rental rates are for a maximum of four hours of usage for all or partial use of the facility. Using the facility over the maximum amount of time will result in an additional per hour charge (no prorating) of $75. The New Rosebud Cafe closes at 11 p.m., no exceptions.
Lessee (you or your organization) is responsible for clean-up, trash removal and returning facility to original condition. A cleaning/damage deposit of $200 per floor will be added to all rental rates. The site administrator will return a full or partial refund of the cleaning/damage deposit to the lessee after the cleaning inspection. The deposit does not include the cost for repair or replacement (labor to be included) of any fixtures.
Reservations must be made at least two weeks in advance. The payment of the rental fee (in advance) and cleaning/damage deposit guarantees the rooms and must be received within five days of making the reservation or you risk losing the room. Cancellations must be in writing (a fax is acceptable) within 72 hours of the event to receive a full refund of the room rental and cleaning/damage deposit less a $50 cancellation fee. Less than 72 hours notice will result in forfeiture of the room rental fee. 
Meeting Room Equipment
The following equipment is available for your use upon availability. Piano tuning will be an extra charge. There is a $50 charge for day use of the Cascades meeting room. Hours available are 9 a.m. to 3 p.m. 
Pianos (tuning of piano is $65/per piano)
Please contact the site administrator for additional information by phone at 314-340-5790 or by e-mail.