A walk to school through a state park can be a great way to start the school day. Students at Rock Bridge Elementary School experienced this during October and November 2010 as part of PedNet's Walking School Bus Program in Columbia. Between 50 and 80 kids walked to school using the Deer Run Trail in Rock Bridge Memorial State Park, which connects with the school's property on Paxton Passage Trail.
The Walking School Bus Program encourages students to use their own two feet by creating safe, adult-led walking routes to school. The goals are to encourage use of alternative transportation, to promote healthy lifestyles and to encourage kids to get outside. Kids gathered at the park's playground parking lot and walked the .9 mile trail to Rock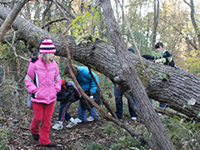 Bridge Elementary School, assisted by volunteer route monitors.
In Missouri state parks, this effort ties in with our Children in Nature initiative and lets kids experience state parks while getting a healthy start to their day. Park staff suggested ways leaders can help kids observe nature along the way. Kids received incentives such as erasers, slap bracelets and draw string bags for each walk.
Of the 10 Columbia elementary schools that participated in a Walking School Bus Program this year, Rock Bridge Elementary School's was the one with the highest attendance. The Rock Bridge route was also the only one in Columbia that used a state park trail.