Recreation Amid Ozark Splendor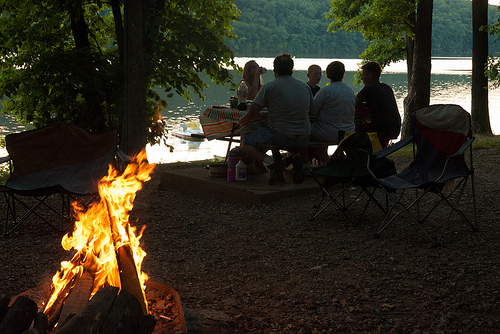 Lake of the Ozarks State Park, the largest in the state park system, contains natural areas ranging from rugged, wooded areas to delicate cave formations and more than 80 miles of lake frontage. The park was established in the mid-1930s by the National Park Service and turned over to the state in 1946. Log buildings, rustic bridges and stone ditch-dams, built by the Civilian Conservation Corp, have placed the park and Highway 134, on the National Register of Historic Places.
Located in the Ozark Highlands, the landscapes found in the park today are very different from what greeted the first European settlers. Fire-maintained woodlands once covered the area, creating an open mosaic of wildflowers, grasses and trees teeming with wildlife such as bison and elk. Clear streams, many of which were fed by underground aquifers and alive with all manner of pristine aquatic life, dissected these areas, creating unique riparian areas. Caves and underground water filled passageways provided cool, clear, unpolluted water for the rest of the ecosystem while providing a unique habitat for a varriety of wildlife and creating unique deposits that cannot be replicated on the surface. During the summer months, park naturalists lead guided hikes and present evening programs to showcase this diversity as well as how the park system is trying to restore these landscapes.
Natural and wild areas are accessible by trail throughout the park. Chert woodlands, small springs and streams highlight the hills of the 1,275-acre Patterson Hollow Wild Area. A self-guiding trail winds visitors through Coakley Hollow Fen Natural Area comprised of spring-fed streams, seeps, caves, fens, glades and deep valleys. Bluestem Knoll, an ecological stewardship management area, features an open woodland and prairie ground cover.
Several trails lead visitors through varied woodlands and lush ravines, across sunny glades and along towering bluffs overlooking the lake. In addition to hiking and backpacking trails, the park has three equestrian trails and two mountain biking trails. An aquatic self-guiding trail marked with buoys on the Grand Glaize Arm of the lake is designed for boaters interested in learning about features along the shoreline.
On the south end of the park is Ozark Caverns, best known for a deposit called "Angels' Showers" - a never ending shower of water that seems to come out of solid rock. With lantern in hand, visitors can view sleeping bats, bear claw marks and the speleological wonders as the first explorers did. For a nominal fee, guided tours are given on a daily basis during the summer.
As a water-based park, Lake of the Ozarks State Park offers excellent opportunities for water recreation. Two free public swimming beaches include bathhouses and shady picnic areas nearby. Contact the marina for information on boat rentals at 573-348-1233. Paved boat ramps are available.
For the overnight guests, campsites, ranging from primitive to electric hookups, are available to campers year-round. Campground facilities include modern restrooms, laundry facilities and dumping stations. For a rustic experience without pitching a tent, eight primitive log cabins offer a quiet, secluded setting. Cabins are furnished with a wood-burning stove, table and chairs, three double beds and barbecue grill. Two yurts, which features a log futon, log futon bunk bed, coffee table, lamp and heater, is also available. A central showerhouse and restroom is situated close to the cabins and yurt. The campground, yurts and cabins offer accessibility to persons with disabilities.
Four organized group camps, accommodating between 40 and 200 campers, include sleeping cabins, modern restrooms, a dining lodge with kitchen, a playcourt area and a designated swimming area. Reservations for the group camps must be made in advance.