Missouri's state parks are filled with great photo opportunities for everyone from professionals to point-and-shooters. Today's "Ask the Experts" features two extraordinary photos from our parks that used two very different techniques.
The first picture (click here to see a larger version) can also been seen on the slideshow on our homepage. It was taken by David Piet, a professional photographer who loves to photograph Missouri's state parks and historic sites. He and his wife, Norine, visited Bennett Spring State Park in August 2010.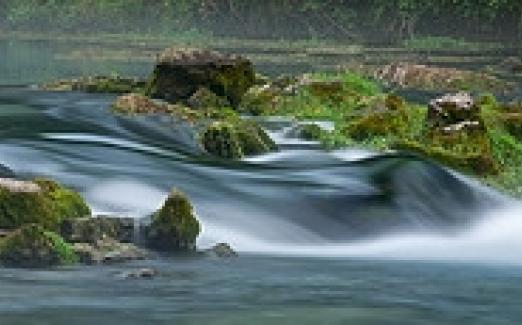 Here's how Dave got the shot:
We toured the park during the day looking for a place to set up for a shot around sunset.  Norine suggested this spot.  I set up my tripod about a half hour before sunset and put a wireless trigger on the camera.  We sat back and I took a shot every few minutes until about 20 minutes after sunset.  This shot was captured 5 minutes prior to official sunset.  The shutter was open for 6 seconds which gave the water the silky look.  This image was shot in RAW format and processed with Aperture's basic RAW adjustments. 
Technical details
Camera:  Canon 5D
Lens:  200mm
Aperture:  f32
Shutter Speed:  6 seconds
ISO:  100
Mode:  Aperture Priority (-.3 ev)
Our second shot (click here for a larger version) was taken by Kerry Hays, a park site specialist at Roaring River State Park. The photo is of the spring where Roaring River begins its life before becoming one of the region's premier trout-fishing destinations.  The area is iconic to the park and thousands of pictures of "The Spring" are taken there each year.  Though it's a jewel of Missouri, pictures of "The Spring" usually aren't as bright as the one Kerry took. To get that brightness and bring out every detail, Kerry used a technique called high-dynamic range, or HDR.
Here's how Kerry captured the shot:
I realized immediately that this would be difficult because the path of the sun never shined in the cave.
HDR images give the photographer the ability to capture a greater exposure range between the shadows and the highlights than can be captured by a regular exposure.  Placing my camera on a tripod, I decided on a composition and then took seven separate images, each 1 exposure stop lighter or darker until I knew I had captured all the available detail.
 Transferring the images to the computer, I processed minor adjustments in Lightroom and then used the Nik Software HDR Pro plug-in to combine the seven images into one.  The resulting image shows greater detail than if you were actually standing at that spot looking into the cave.