By Tom Uhlenbrock
Missouri State Parks

Guide Chris Fritsche knows what to expect of first-time visitors when he leads them down the marbled hallways of the State Capitol in Jefferson City through the heavy wood doors of the House Lounge into the vibrant world of Thomas Hart Benton.

"They're pretty shocked – you see disbelief and surprise on their faces," said Fritsche, an interpreter for the Missouri State Museum, which is located in the capitol building.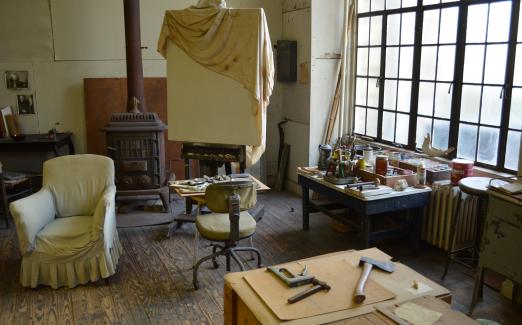 The visitors are greeted by the magnificent mural that Benton painted on the four walls of the large room, entitled "The Social History of Missouri."

"They love the colors, the way they pop out at you," Fritsche said. "They can't believe it was painted in 1936. It's like it was painted yesterday. People can literally spend hours looking at it. I'm one of them."

Many state legislators were equally shocked  when they first saw the mural. They expected war heroes, elder statesmen and founding fathers; Benton gave them the farmers and builders who were the backbone of Missouri's history and culture. And he also gave them Jesse James, slave owners and Frankie shooting Johnny in a St. Louis tavern.

"Thomas Hart Benton didn't pull any punches," Fritsche said. "He showed the good side and the bad side."
Benton also painted a monumental mural that is displayed in the Harry S. Truman Library and Museum in Independence. The mural highlights the town of Independence as the starting point for westward expansion.  This year will mark the 50th anniversary of the dedication of that mural, prompting a cross-state road trip in search of Missouri's premier 20th century artist.

After stops at Jefferson City and Independence to visit the two murals, the trip ended at the Thomas Hart Benton Home and Studio State Historic Site in the Westport area of Kansas City. The home and studio are preserved much as they were when Benton died in 1975. His books, his pipes, his paints and brushes sit as if waiting for his return.

"Everything belonged to the Bentons – it's their stuff, things they used and handled," said Steve Sitton, site administrator for the Missouri Department of Natural Resources. "It's like the Benton family has stepped out for the day, and visitors get to take a peek into their life."
 
Top of his game
Thomas Hart Benton was born in Neosho in southwest Missouri in 1889 to a family of lawyers and politicians. His father, Maecenas E. Benton, served four terms in the U.S. House of Representatives and his great-great uncle was Thomas Hart "Old Bullion" Benton, Missouri's first United States senator.

With his father's reluctant permission, Benton studied at the Art Institute of Chicago and several art academies in Paris. His greatest influence in style came during a two-year hitch as a draftsman in the Navy during World War I. He adopted a life-long appreciation of realistic drawing that showed common folk at work.

Benton of Missouri, Grant Wood of Iowa and John Steuart Curry of Kansas were the leaders of the Regionalist movement in painting that dominated American art during the 1930s. In 1934, Benton was on the cover of Time Magazine.

"He was at the top of his game," said Sitton, the site administrator. "He got to do his own cover with a self-portrait."

After living for 22 years in New York City, Benton made a triumphant return to Missouri in 1935 when he was commissioned to paint the mural at the capitol building, and offered a teaching position at the Kansas City Art Institute. He was paid $16,000 for the mural, which was more than the yearly salary of the governor. His artistic success allowed him to write a $6,000 check for the four-bedroom limestone house in Westport.

"He was a working artist – all day, every day – well to do, very famous," Sitton said. "He did about 1,000 full-size finished paintings, plus 14 murals, mostly in public venues, 1,500 study paintings and six sculptures. He wrote two books, both autobiographies, and illustrated 13 other books. He also did a record album of his harmonica music."

The home includes 13 original Benton art works, along with the family clothes still hanging in the closets and books and magazines sitting on the shelves.

"Almost every art museum in the country has his paintings," Sitton said. "Here, at the home, we talk about his personality, his lifestyle, his family."
 
Crucial to his success
A tour of the Benton home and studio proves the saying that behind every great man stands a great woman. Behind Thomas Hart Benton, who stood barely 5 foot 3 inches tall, you would find Rita, his wife of almost 53 years.

Rita Piacenza was an Italian immigrant and had been one of Benton's art students in New York when they married in 1922. The couple had a son, Thomas Piacenza Benton, born in 1926, and a daughter, Jessie Benton, born in 1939 and still living. Benton was busy with his art career, sometimes disappearing for months on sketching trips, when his son was born.

"He was struggling to make it as an artist, and wasn't a very good father," Sitton said. "The daughter was born 13 years later, and he did a much better job with her. He kind of got a second chance."

Rita Benton bristled at her husband's vulgar language, and his habit of dropping cigar ashes around the house. "His wife said he was the worst husband and worst father in the world," Sitton said. "She said no American woman could have stayed married to him. But she also said he was a genius."

She kept after her husband to produce paintings, their main source of income, and served as his business manager, often selling his works right out of their home.

"Tom said she was a hard woman to live with," Sitton said. "But he also said, 'Without her, I would have been a bum'."

The couple had an active social life, entertaining often in their large, comfortable home. Benton also loved the rivers of the Ozarks, floating them every spring and portraying them in his works.

"When he was 83, he was getting ready for a float trip and his doctor said he couldn't go," Sitton said. "So he took his doctor and surgeon with him."
On Jan. 19, 1975, Benton went out into his studio after dinner to put the finishing touches on a mural he was doing for the Country Music Hall of Fame in Nashville, Tenn. He dropped dead of a massive heart attack in the studio before he could sign the work, which now graces the hall of fame's rotunda. He was 85.

The studio remains as it was that day: A stretched canvas waits on a frame next to coffee cans filled with brushes and baby food jars caked with dried paint.

Rita Benton died 11 weeks after her husband.


"It was a very up and down existence for them, but Rita kept it nice and steady by selling paintings," Sitton said. "She was crucial to his success, and he admitted it."

The winter hours for Thomas Hart Benton Home and Studio State Historic Site are 10 a.m. to 4 p.m. Monday, Thursday, Friday and Saturday and 11 a.m. to 4 p.m. Sunday. The site is closed Tuesday and Wednesday. Admission is $4 for adults and $2.50 for children 6 to 12. For more information, call (816) 931-5733 or visit mostateparks.com.