By Tom Uhlenbrock
Missouri State Parks
KNOB NOSTER, Mo. – Stephanie Payne led the way through the bottomland forest at Knob Noster State Park. She turned as the path went between two tall pin oaks and said: "This is the gate to my garden."
Payne is a graduate student specializing in wetland ecology at the University of Central Missouri in nearby Warrensburg. Biologists call her "garden" a vernal pool, which is a slight depression in the forest floor that holds water in the spring months. She is doing an inventory of the habitats and plant species that thrive in the shallow pool before it dries up in late summer.
Payne is a student of Joe Ely, a professor at Central Missouri who often uses state parks as classrooms. This year, Ely has two graduate students and five undergrads working in the wetlands at Knob Noster, and three graduate students examining the impact of bison and elk grazing on the grasses and wildflowers at Prairie State Park.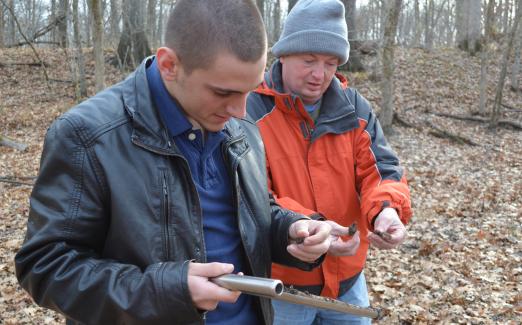 Missouri State Parks, a division of the Missouri Department of Natural Resources, has similar relationships with students and professors at universities throughout the state. They have studied fungi at Ha Ha Tonka State Park, small mammals at Weston Bend State Park, flying squirrels at Thousand Hills State Park and the cave environment at Rock Bridge Memorial State Park.
Ken McCarty runs the program as chief of the natural resource management section of Missouri State Parks. The program defines a resource question about a certain park, and then gives a small grant to a university located near that park to fund research that will answer that question.
"Through time, it has brought some very important biological inventories, studies of rare and endangered species and all manner of information about the flora and fauna that exist in state parks," McCarty said. "A university located next to a park can access it easily, and generally has a pool of students. We provide the setting and the research question. The university provides the students and professors to get out there at ground level. It's a win-win situation."
Ely, who has a doctorate in plant biology from Southern Illinois University, obtained a $10,000 grant from the state to analyze the soils and collect and inventory the vegetation of oxbows, vernal pools and flatwoods at Knob Noster State Park.
"These are wetland habitats that act as the kidneys of the landscape, purifying and cleansing the water," Ely said. "We've lost 87 percent of the wetlands here in Missouri."
Shannon Thompson, one of the graduate students working at Knob Noster, is studying the park's oxbows, including Pin Oak Slough, which has been designated a Missouri Natural Area because of its unique features. His surveys have found several populations of Pale Green Orchid, a rare member of the orchid family, in the oxbows and surrounding floodplain.
"What we're doing lets the state know what it has out there," Ely said.
 
Planning a prairie
At Prairie State Park, the three graduate students are monitoring the impact of elk and bison grazing on the plants that grow in Missouri's largest remaining tract of high-quality prairie, McCarty said.
"We don't always have access to very specific research needed to manage the parks – for instance, what does it take to have a healthy tallgrass prairie?" McCarty said. "Is bison grazing helping or hurting the resource there? Should we have more bison, or should we reduce the number and give the prairie a rest?"
The universities benefit because the state grants finance research work, he said, and allow the students to do hands-on field work that can help them pursue their careers.
"Because the number of full-time researchers and staff has diminished in recent years, providing these projects to universities allows them to offer more research to their students," he said. "The grad students, in turn, expand the courses offered to university science programs."
Often, there are positive spinoffs to the relationship between the parks and universities.
Chris Crabtree was a student at Central Missouri who did research under one of the projects funded by the state. After graduation, he was hired by the state park system and is now the naturalist and superintendent at Big Oak Tree State Park near Cape Girardeau.
In addition, Southeast Missouri State University received grants that produced three master's theses from research done at Big Oak.
"Those studies have been pivotal in understanding the resources at the park," McCarty said. "In turn, the park has figured very prominently in planning for the New Madrid Floodway."

Ely, the professor, pointed to an additional personal spinoff for the professors who participate in the research at the parks.
"The benefit for me is that I get to answer fundamental, ecological questions about these habitats in the form of research publications," he said. "The university wins, the students win, and the Department of Natural Resources wins."
 
Surrounded by nature
Stephanie Payne, the student doing research on the vernal pool, said she plans to move to Alaska after graduation in May and seek a job using many of the techniques she has learned at Knob Noster. She noted that much of the land at Knob Noster was mined extensively in the early 1900s.
"Alaska has many areas that are being reclaimed after gold mining," she said. "I want to analyze them from the bottom up, studying the biodiversity, the water quality. You want to make sure the areas are stable, and not being destroyed. I've also done mapping; that's something I would like to continue doing as well."
Although she won't miss the ticks, and had a run-in with a large snapping turtle hiding in her pool, Payne said she has enjoyed her time at Knob Noster State Park.
"I'll come out and flush the deer out of my pool," she said. "You're surrounded by nature. You don't hear the highway. You don't hear anything but the creek. I absolutely love it."