By Tom Uhlenbrock
Missouri State Parks
 STOCKTON, Mo. – Charles West bought his 37-foot sailboat in Florida and had it trucked halfway across the country to its new home on Stockton Lake.
West and his wife, Betty, are among the 300 or so regulars with sailboats at Stockton, a mecca for sailors amid the pastures and farm fields of southwest Missouri on the western edge of the Ozarks.
"There are other lakes in Missouri with sailboats – Mark Twain, Lake of the Ozarks, Table Rock, Smithville near Kansas City," said West, who is 74 and from nearby Springfield. "But Stockton has the most consistent winds.
"You can circle the lake for 25 miles in about four hours. The winds today were 15 to 20 miles per hour out of the south, which was ideal."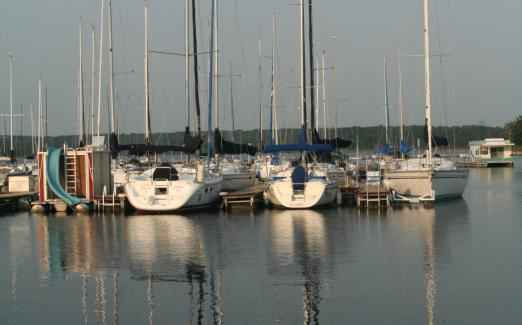 Stockton also has Larry Strait, who has operated the sailing school at Stockton State Park for six years. The school is one of more than 300 certified by the American Sailing Association.
In 2009 and again in 2010, the association rated the Stockton school as "outstanding," and ranked it among the top 20, based on evaluations returned from students after completing their sailing certifications.
In 2009, Strait was named an "outstanding instructor" by the association, ranking him among the top 30 of the nearly 2,000 certified active instructors in the world.
"Larry is a very professional person in whatever he does," West said. "I don't think you can get him excited."
Strait, who is 59 and could win an Ernest Hemingway look-a-like contest, learned sailing while stationed in California as an Army combat medic. He returned to Missouri and took up farming, and worked as a communications engineer, but went on sailing trips at every opportunity.
Strait eventually sold the farm to concentrate on the sailing school at Stockton, where he and fellow instructor Ben Jagears turn an average of 50 landlubbers a year into certified sailors.
"We get everything - farmers, doctors, lawyers, all walks of life," Strait said. "We gear the course to what they want to do. We have a two-day course that teaches basic keelboat sailing, and a two-day coastal cruising course. With a beginner, it's always best to take lessons."
The soft-spoken Strait may be a bit biased, but he argues that Stockton is easily the state's best sailing lake. The lake was formed in 1969 when the Army Corps of Engineers completed a dam that impounded the waters of the Sac and Little Sac rivers.
At 25,000 acres, Stockton Lake is not Missouri's largest, but has conditions prime for the beginning sailor, with an open topography that lets in the wind. By comparison, the Lake of the Ozarks is more than twice as big, but has erratic winds and heavy powerboat traffic.
"We get the winds blowing off the plains of Kansas and Oklahoma," Strait said of Stockton Lake. "The lake is deep, we don't have a lot of shallow areas. We don't have the huge cruisers throwing out wakes.
"On a real busy weekend, you might see 30 sails spread all over the lake. During the week, you may be the only sailboat out there."
Sailing on a gentle breeze
On a sunny Friday morning early this summer, six friends who are businessmen in Kansas City and Columbia gathered in the small restaurant at the Stockton State Park Marina to meet Strait and Jagears, their sailing instructors and licensed Coast Guard captains.
The six had paid $495 each for the three-day basic sailing course. If they passed the tests at the end of the course, they would be certified for keelboat sailing and coastal cruising, which would qualify them to sail alone and charter a boat. Some had previous sailing experience, and all had received their course manuals.
After introductions, Strait offered an admonition: "This is sailing. It's not sitting on your couch watching TV. It can be dangerous."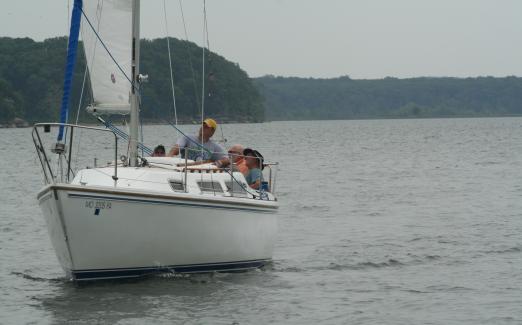 The group soon was outside, learning the terminology of sailing while on two 25-foot sailboats. After about an hour, the boats motored out to practice mooring on calm water, then headed out onto the lake. Soon, the sails were billowing as the boats crossed the lake on a gentle breeze.
The students are taught all aspects of sailing, from anchoring and knots to crew overboard recovery. "The biggest thing on a sailboat is knowing the relationship of the boat to the wind," Strait said. "Everything else is icing on the cake.
"But then you have to go out and practice. You don't take a three-day course and head to the British Virgin Islands. It doesn't work that way."
The sailing school runs from mid-May through mid-October, and was booked through May and June this season. The maximum number of students, per instructor, is three. Private lessons are available.
"The best sailing months really are September and early October – it's not as hot out there and you have steady winds," Strait said. "There's nothing worse than sitting on a sailboat when it's hot and there's no wind. Everybody just wants to jump off and get wet."
A tiger by the tail
Stockton Lake, which is 50 miles northwest of Springfield, also has a reputation for another sport – fishing, especially for walleye.
"The lake is deep, and it's cold," said Harry Lefferts, the concessionaire for the state park. "The walleye fishing may not be equal to going up to Canada, but it's very good for anywhere around here."
The park marina, which is open March through October, rents fishing boats, pontoons, personal watercraft and sailboats. Boat slips, including more than 70 designed for sailboats, are available for yearly rental. The clear blue waters of the lake also attract scuba divers.
The park has shaded campgrounds, with log camper cabins available. There also are one- and two-bedroom duplexes with modern amenities and small patios for barbecuing. Call 1-800-334-6946 or visit www.mostateparks.com/stockton-state-park.
Strait welcomes park visitors to try their hand at the magic of sailing, with wind powering a ride that is quiet except for the slapping of the waves and snapping of the canvas.
"Beating into the wind in a fresh breeze, full sails trimmed, the boat on a 20-degree heel in the groove, the tiller in your hand, you feel like you have a tiger by the tail," Strait said. "And, yes, it's a pretty good little adrenalin rush."